Eyes down, fixed to a screen. Swiping up, down, left and right, and double-tapping likes like no tomorrow. Maybe crushing some candy. Chasing down bargains, bidding on antiques, booking tickets. They are legion and they are the masses glued to a palm's flicker, chasing the delectable serotonin treats of interactive information and entertainment (or "infotainment") fuelled pleasure.
Maybe you are reading this on your phone somewhere in the wider world. Perhaps you're reading in bed next to a loved one, or maybe reading in an office where you're having a break from work for 5 minutes. You could be reading in a café, bar, or club, where you just so happen to be bored of the DJ. You could be waiting in line, waiting at a bus stop, waiting for your sister, brother, friend to hurry up with whatever they're doing. So you have a minute, you whip out the portable and you swipe. You tap, flick, crush, chat, snap, gram, etc. You turn on in and you tune those around out.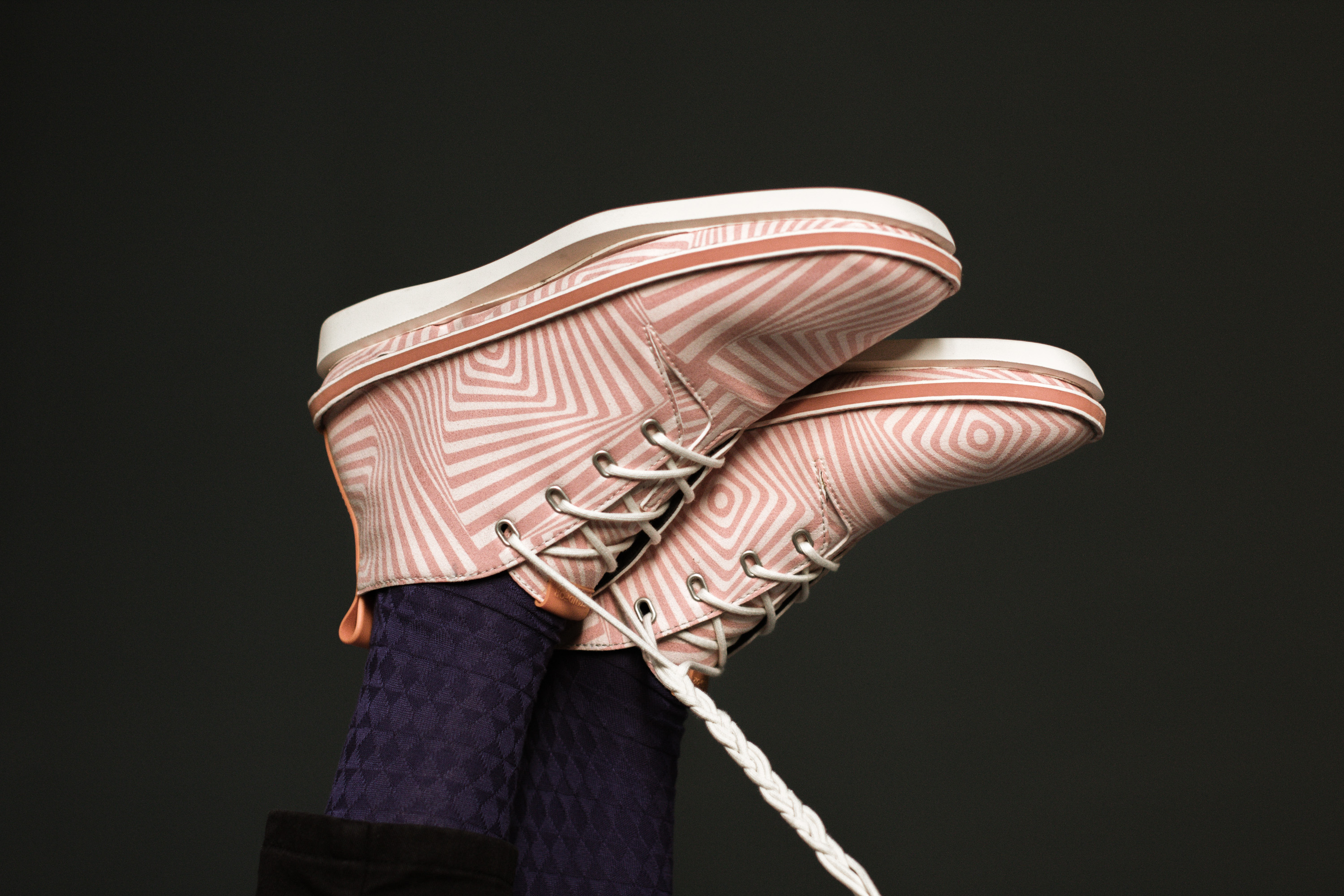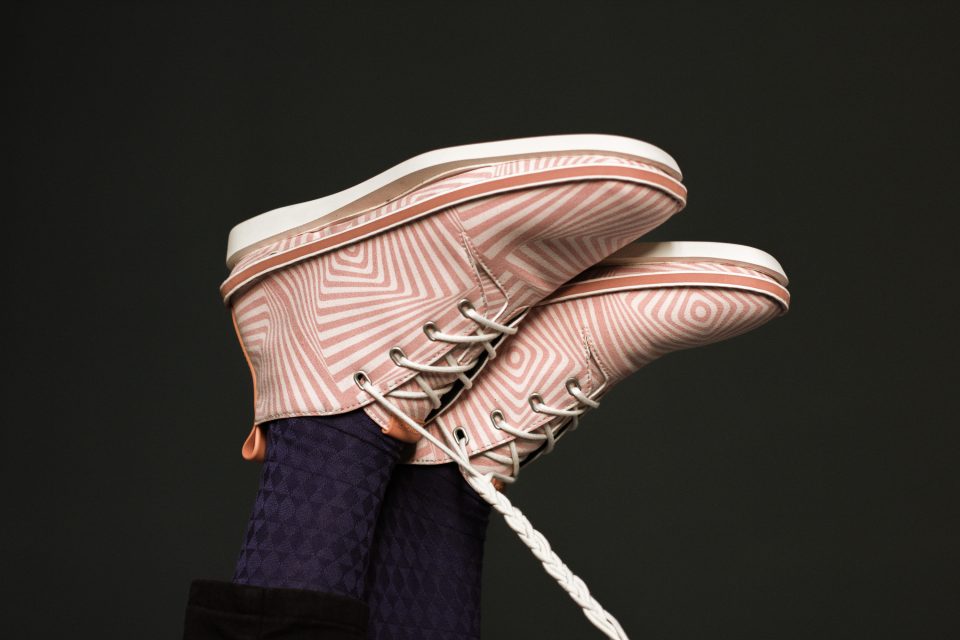 I do this a lot. Often Natalie can take longer than me to get ready, so I read articles as I wait. Before we go to bed I might be reading articles, or playing silly games (no crushing candy involved, but equally silly). When I walk out the door on my way to work I whip out my phone like a 50s gangster whips out a butterfly knife and I check my messages. Always on, always connected. Another notification sings a tune or pops a friendly reminder. I find those types of reminders disgusting and I always turn them off, but the result is that I now frequently check the screen only to get hooked back in.
To be in someone else's company and to devote your attention to the alternative digital universe has a name: phubbing (phone + snubbing). I learnt this from a shoe brand called Standfor whose current mission is to encourage the world to look up from the phone and re-engage with your fellow humans — "Talk your walk" is their byline. "I am engaging with my fellow humans!" I counter, having sent off an emoji message to a group chat whereby I visually expressed my appreciation for the funny cat GIF where it's caught stealing from a drawer. Yes, I ??❤️??'d at it heartily. I'm somewhat complicit in our society's new digital bad behaviours, having followed the white rabbit down one too many Wiki-holes in the company of others (my recent obsession now is to look up people on IMDb while watching TV and movies).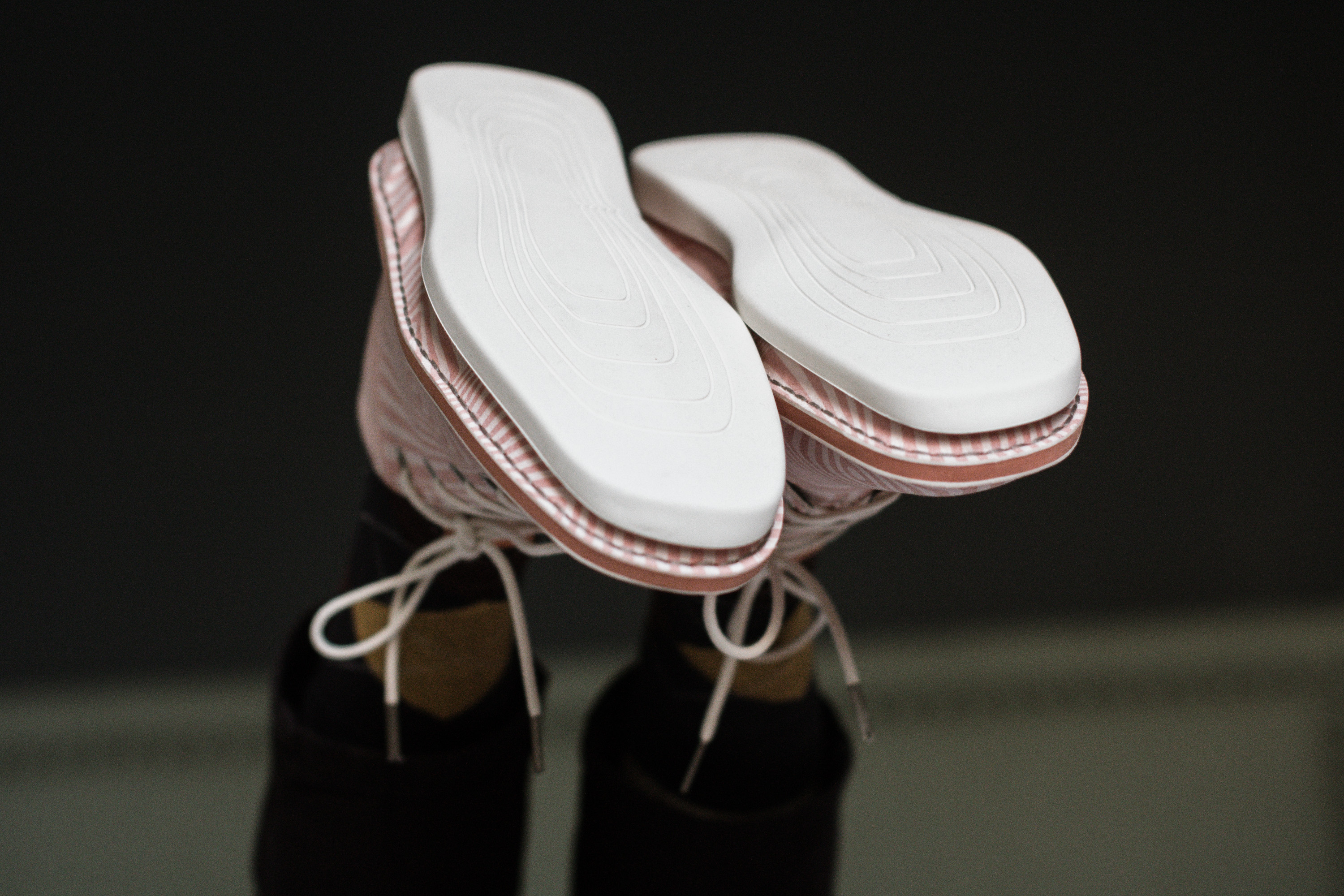 Have you been in that situation where you're enjoying a nice moment — could be nature, or a special day, or just general conversation — and someone ruins it with a "ding!" or takes a selfie and is then engrossed in posting it to their followers, or just gets sucked into the void that is the Internet? Some people like to think that heads-down deep in something (like a phone) is a new thing, but previous generations had their newspapers, books, lint-in-belly-buttons.
I think it's a really interesting concept that Standfor brought to life. It's made me question my role in phubbing and its prevalence in our greater societies. I walk past cafés with 1 person to each table and their head-deep in phone, ensconced in information and phubbing the strangers unknown. Metro rides are generally silent with most people immersed in phone (well, mostly silent, save for those listening to terrible music really really loudly in their earphones). I've seen hundreds of people mindlessly crush candy on these trips.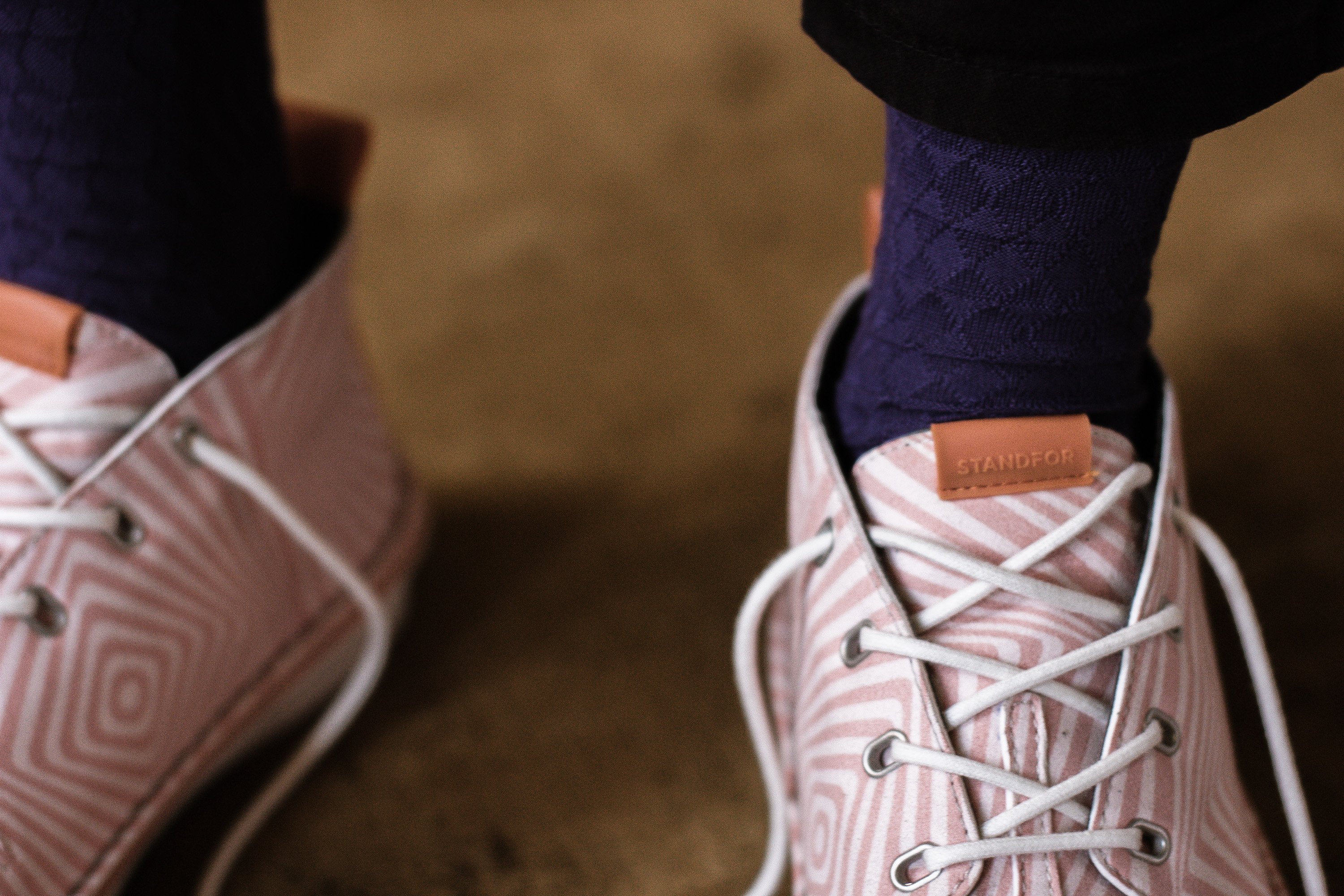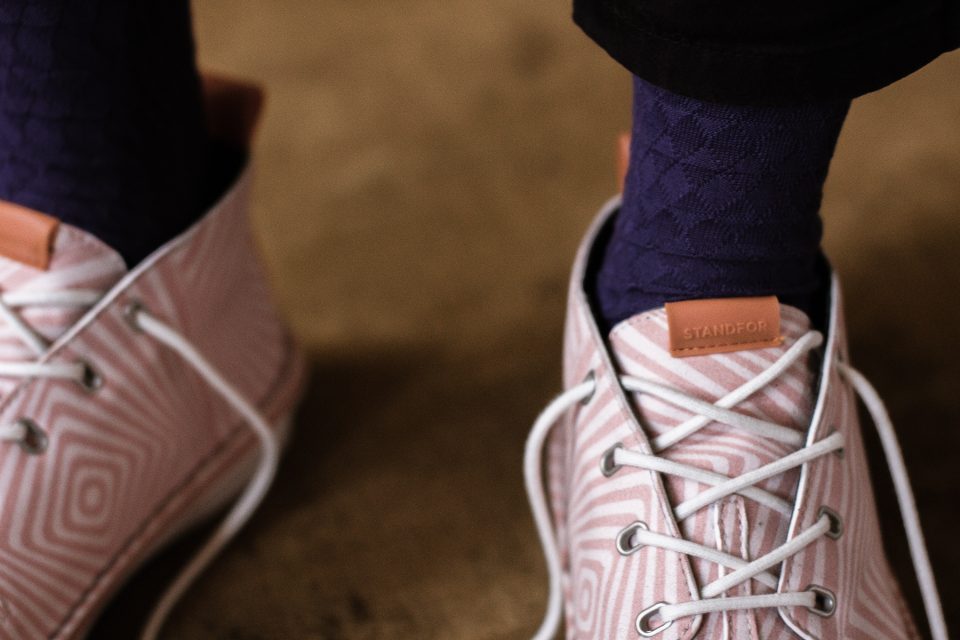 Can Standfor really affect the world with their humble shoes and insightful marketing? Perhaps not en masse, but it's an intriguing concept with some incredibly interesting and original shoe designs. I'm an aficionado for details and the details in the packaging, presentation and product that Standfor produced is really top-notch. It's such a small thing to notice but I like the metal shoelace tips. The shoes are as comfortable as putting your feet in slippers.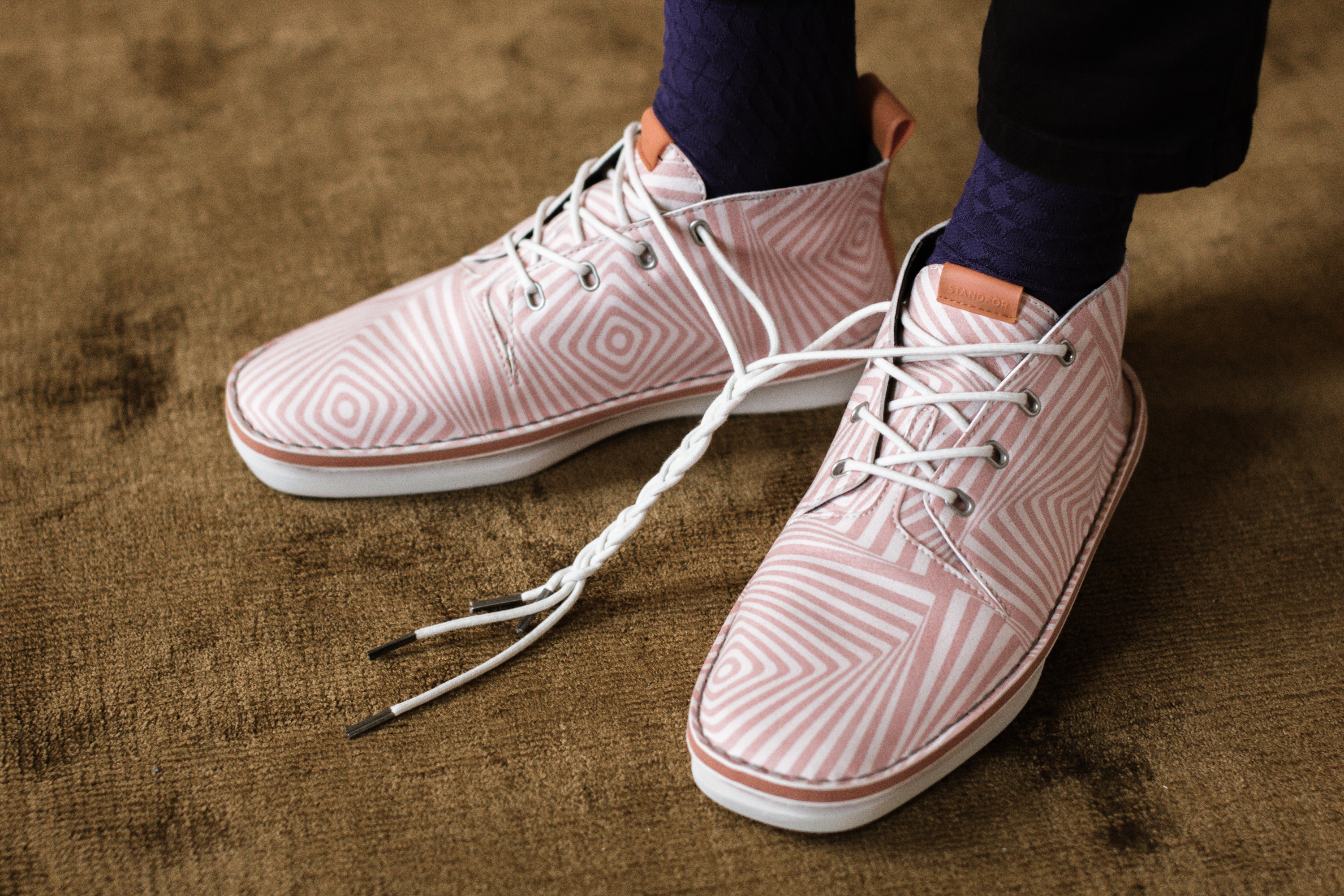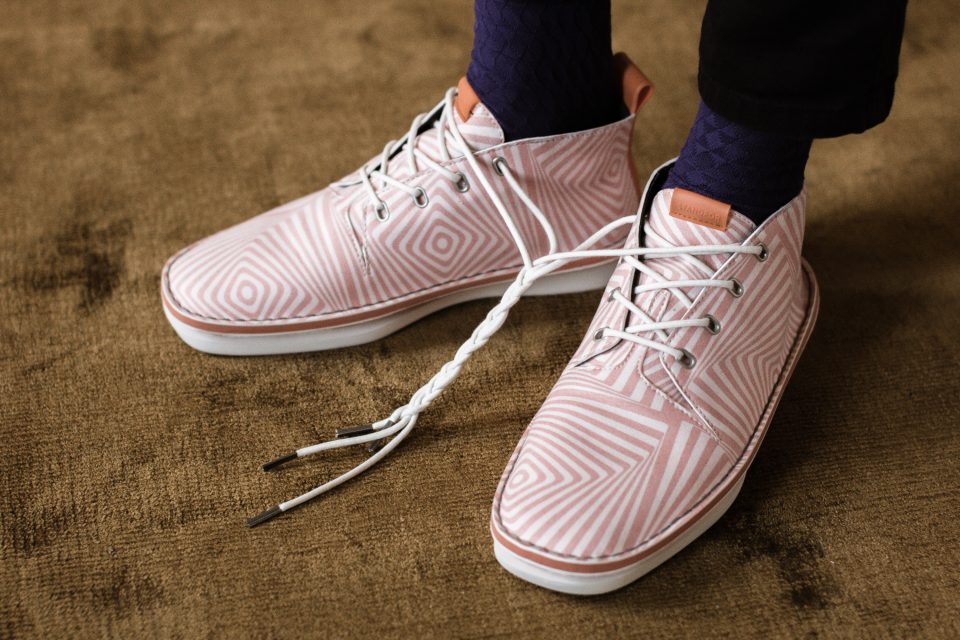 The shoes are also dapper and unique — no-one makes shoes like these. All the expressive colours and prints of their range would ensure that if a bystander was head-down phone-deep that they'd certainly get an eyeful of the kicks and may have serious respect for one's style (they may want to even stop their phubbing!). I chose this Vertigo-esque print called "Illusion" because I wanted to really boggle people's minds (it's exceptionally effective with these purple Acne Studios socks too). It's cool, expressive, kooky and a wee bit 60s (each shoe print is also available with 3 different colour trims too). I'm trying out some serious neo-mod style experiments and I think these shoes really fit the bill between casual and formal, smart and savvy, weird and nice.
As far as I'm aware these shoes are only available to buy online. I'm a size 43 (UK 9/US 10) and the shoes fit me well snug as a bug in a rug, even with my wide paddle feet. The shoes are unisex as well, because why gender-fence good looking shoes? You can shop my favourites below.
Outfit details
Trousers — Patrons
Socks — Acne Studios
Shoes — Standfor "Illusion" Orange Ankle Boots