Saturday, June 11th 2016, the date that marked our wedding day, and only a few days after the Seine burst its banks some 6 meters over its ordinary level, last seen since The Great Flood of 1910.
It's a year marked in history and one we will never forget. With the water levels rising ever closer from the Seine to the Mairie 2eme (town hall) where we were to wed. Friends and family from afar were full of "what if the rain doesn't stop and floods the town hall?" and "you might not be able to get married!". Our wedding day seemed to mark when the Seine's levels started to subside. We welcomed only light drizzle, it was beautiful.
Of course, we didn't mind anyway because the French (and Italian) saying goes Mariage pluvieux, mariage heureux (rainy wedding, happy marriage).
Anyway, enough about weather and more on getting married, since it's officially wedding season and just a few days away from our first wedding anniversary. I thought it really was about time to share a few photographs from our special day and express how important it is to make your own wedding day one that really represents you and makes you feel comfortable.
I've read a few posts lately in the spirit of all things wedding and more interestingly on the Man Repeller. There were quite a few articles by Leandra, expressing what she would do differently if she got married now – which amounted to basically everything, from the dress she wore to the wedding party she her parents threw.
So in light of that I hope to inspire you and encourage you and your partner to organise a day that really feels 100% natural to you both – even if that really does mean wearing a huge tulle meringue around your waist, or having a very very low-key small scale affair (it may even just be the two of you — with witnesses, of course). Because in hindsight quite often we would choose to do things a little differently. When it came to getting married we wanted to do what felt most natural even if that meant going against modern wedding traditions.
Here, again, are just a few quotes from that funny little book "How to be Parisian wherever you are" that I keep referring back to:
The Wedding Dress

The poufy meringue look is out of the question. She will get married in either a black or navy blue tuxedo. Or in a vintage couture dress … She knows exactly what she wants, and certainly won't monopolize her friends' precious time by dragging them to every bridal shop in town.
Traditionally, we always see a bride wearing white. Though I love crisp white clothing, it doesn't feel comfortable to me to wear white. Which is why I chose to wear the black version of the dress I picked out. It also means that I can wear it on many more occasions than on just our Wedding day. So, my advice to you is to wear what you really love and what you feel very comfortable in, because when you look back on photos of the day you don't want to be reminded of how silly you looked or how uncomfortable you were! Even better why not pick something out that you would enjoy wearing again.
Matt chose to wear this incredibly fantastic dusky pink suit so aptly named "Paris Time". We keep finding little secret messages and common numbers in our life together that just make us smile.
Of course, we all know that traditionally the bride and groom are not to see each other and to stay in separate places, to only meet at the ceremony. I also recently discovered this new, non-traditional concept of "the first look" where the couple meets during a private, intimate setting before the wedding ceremony begins to enjoy a moment together to relax and take some photographs before the ceremony begins.
Matt and I personally thought it would be much nicer to spend the night's eve and morning together getting ready at our beautiful bed & breakfast suite and arrive at the town hall together hand in hand. Everyone gets scared about not following tradition and "bad luck", but the reality is that it's just superstition. You can do what you like!
The Wedding Location

… Paris of course. At the city hall in her arrondissement.
We were married at 11am on the 11th of June 2016, the ceremony was relaxed and reading our vows was the Deputy Mayor of the 2eme arrondissement, Paris town hall. It feels wonderful living in a progressive and inclusive society in Paris, and the Deputy Mayor was proudly talking about being able to celebrate the union of any committed loving couple, as he had just done with a same-sex couple before us.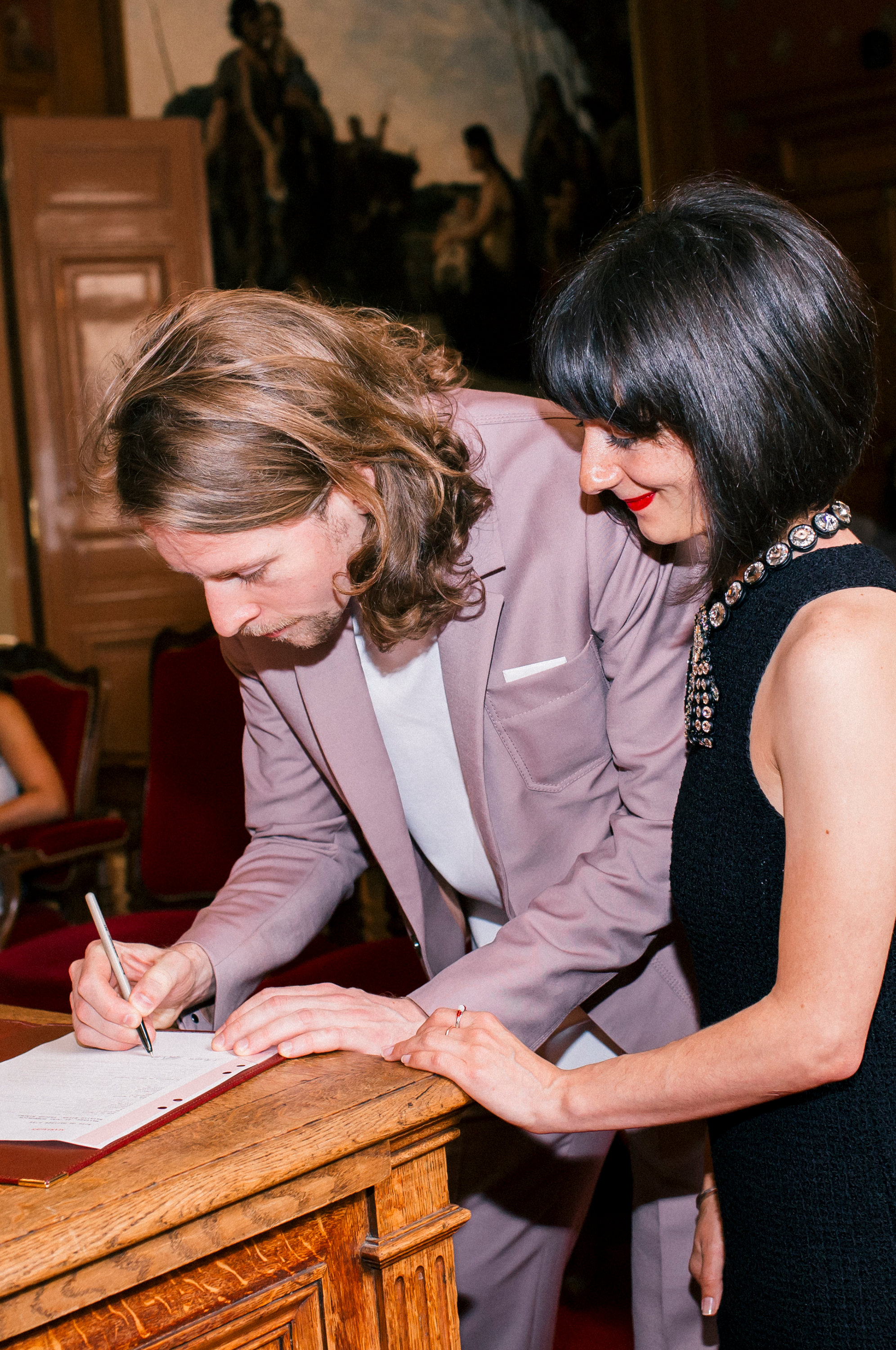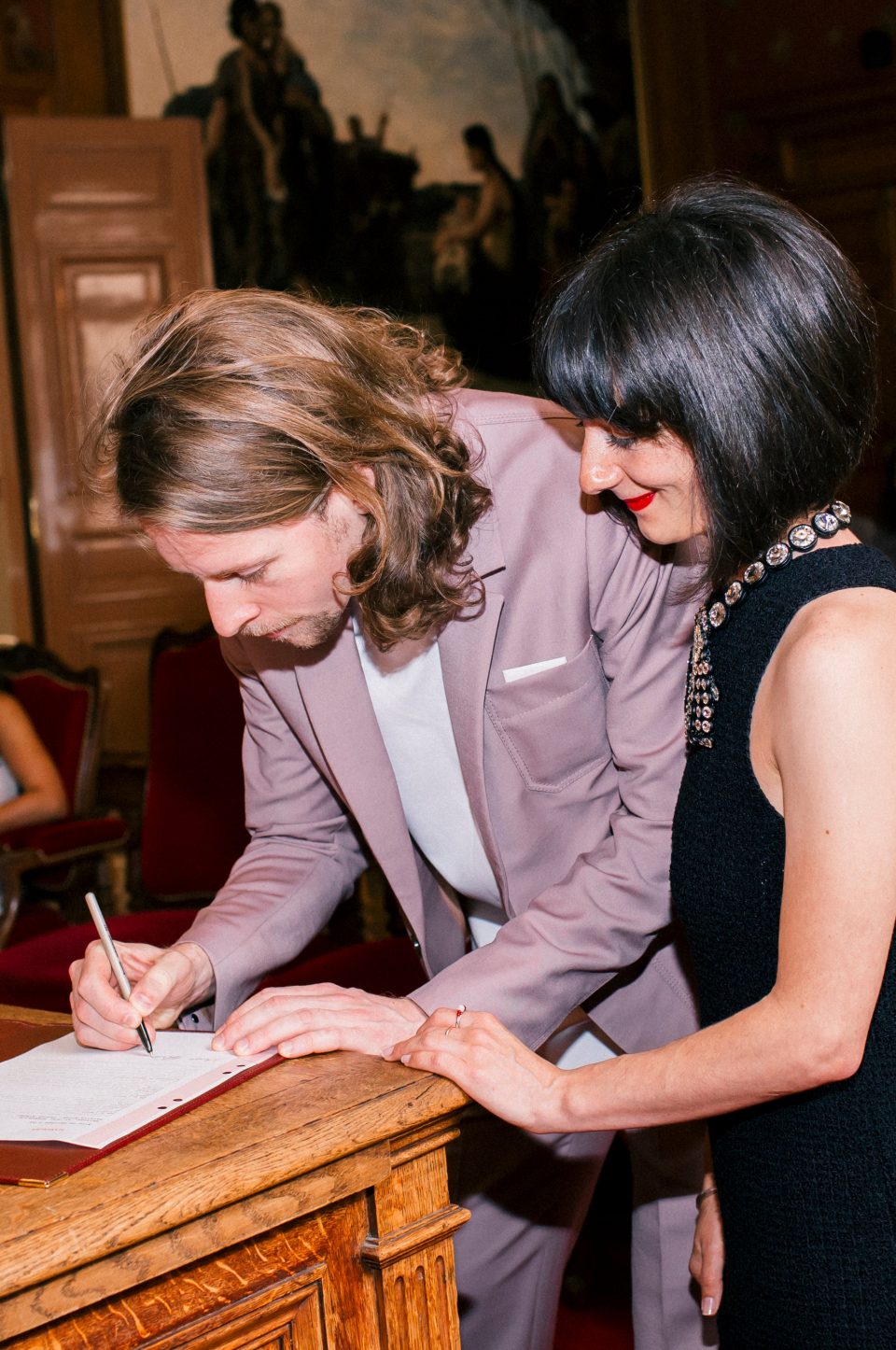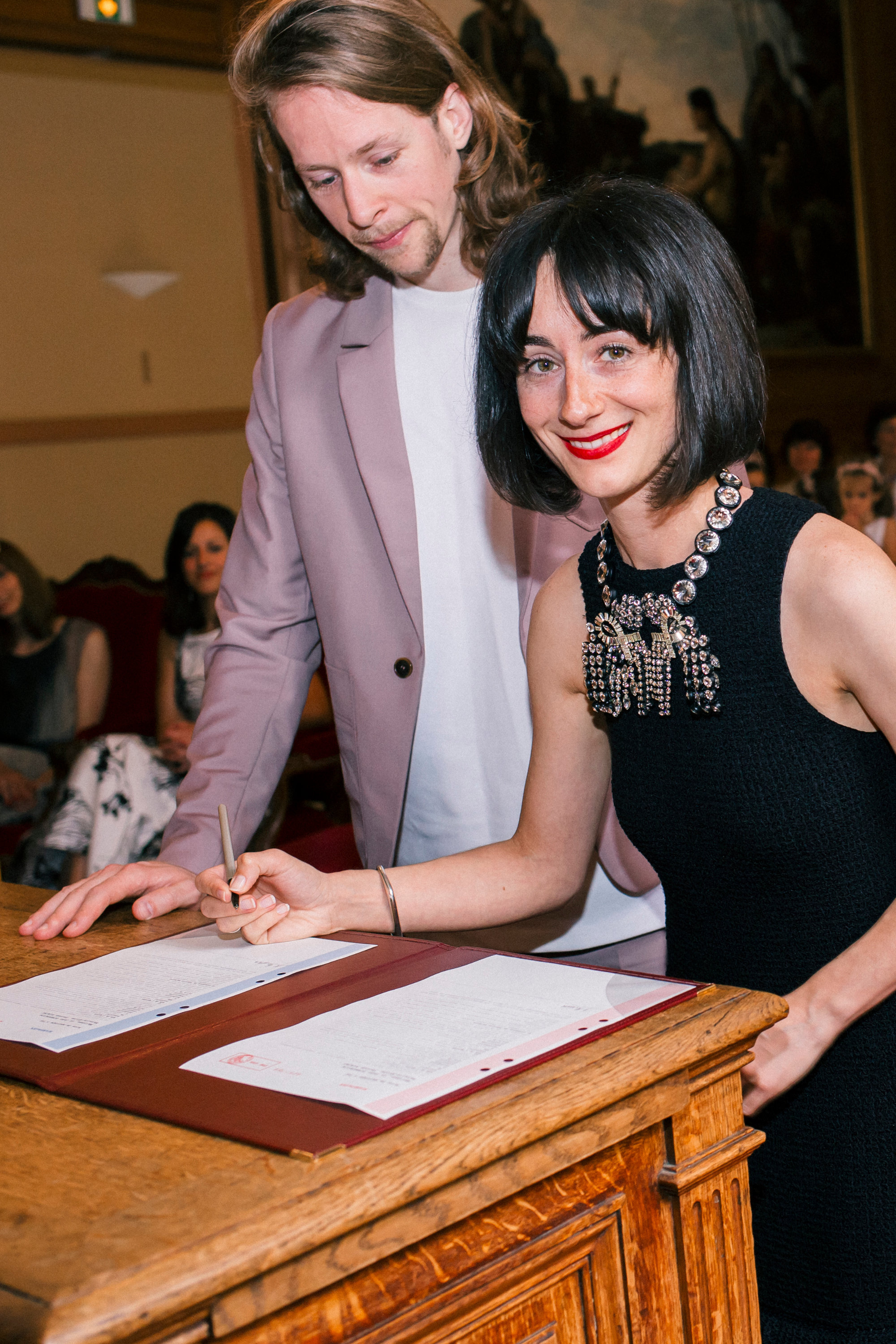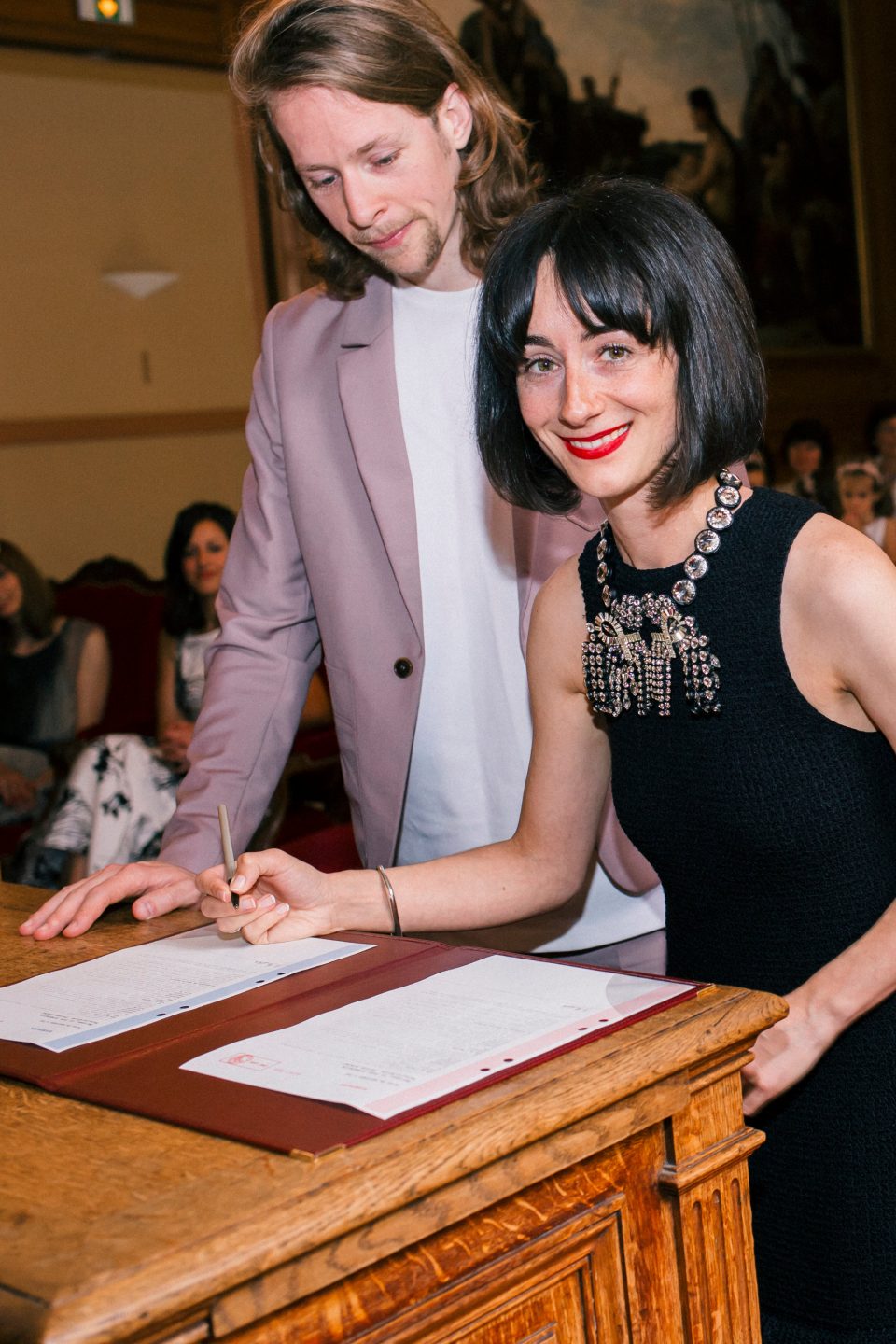 The Deputy Mayor made us feel relaxed with his friendly light humoured approach and I was perhaps a little too eager to get married and said "oui" a number of times at precisely the wrong time.
Deputy Mayor: "Do you have a prenuptial agreement"

Me : "Oui, Oui, Oui!"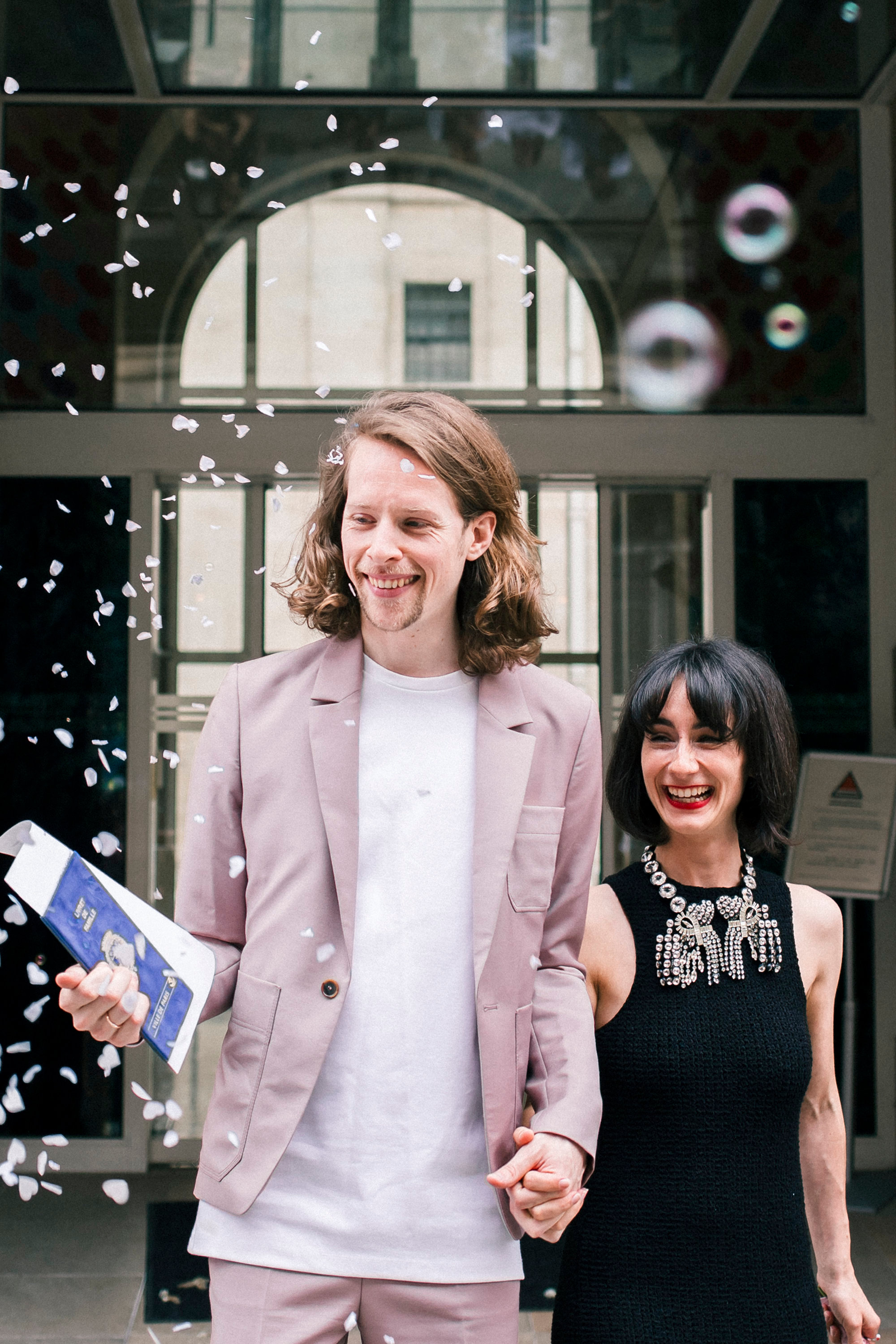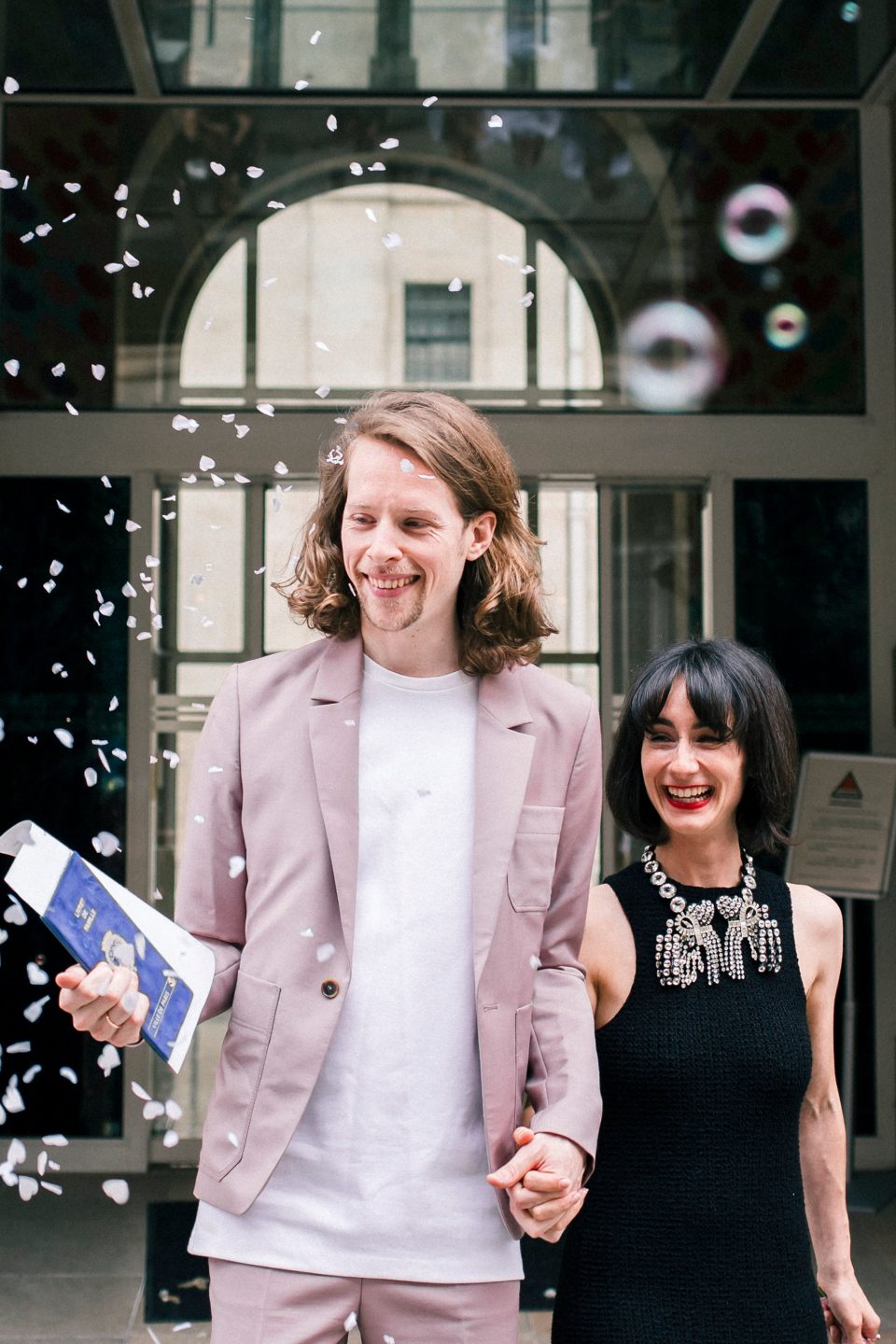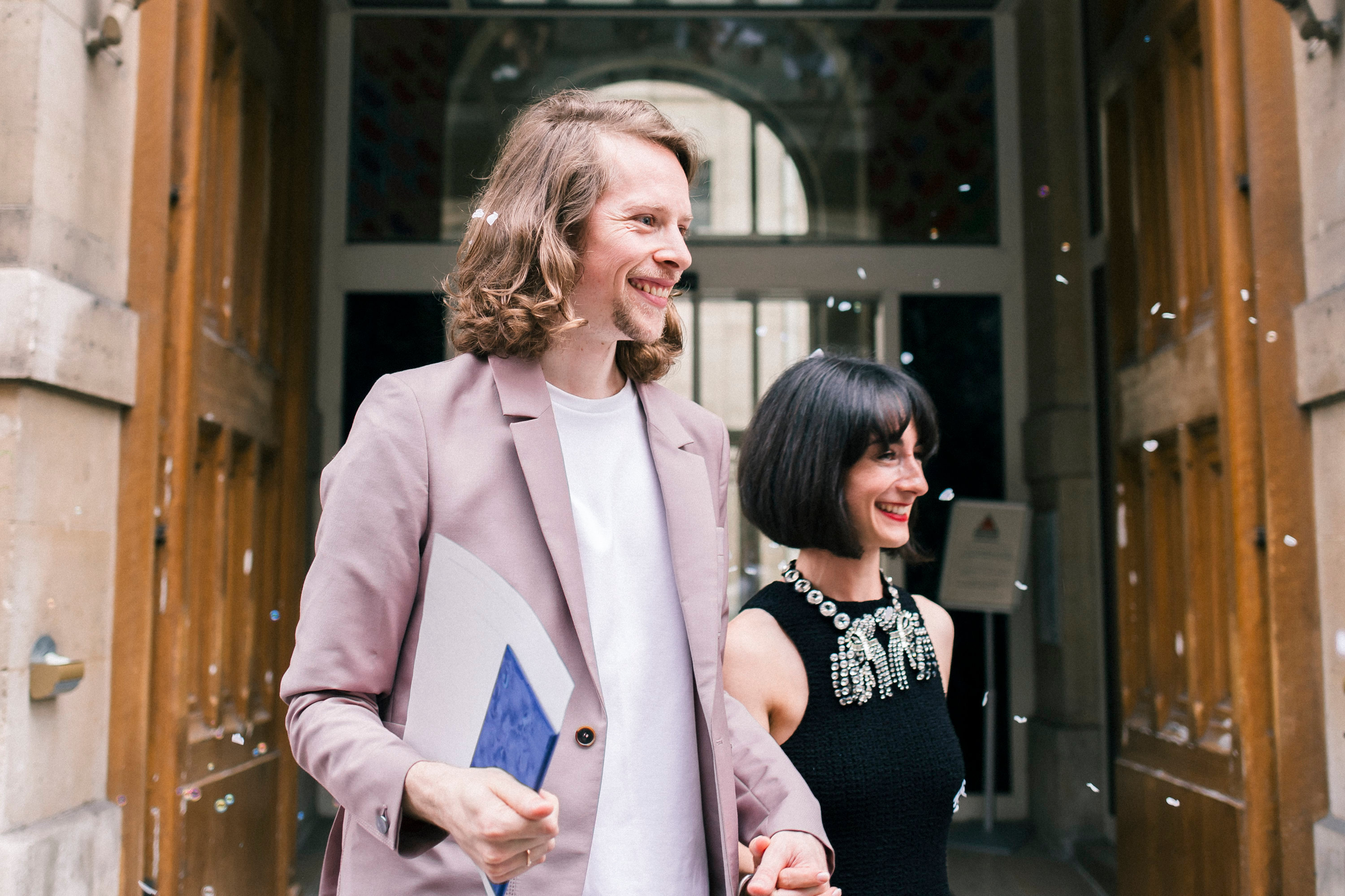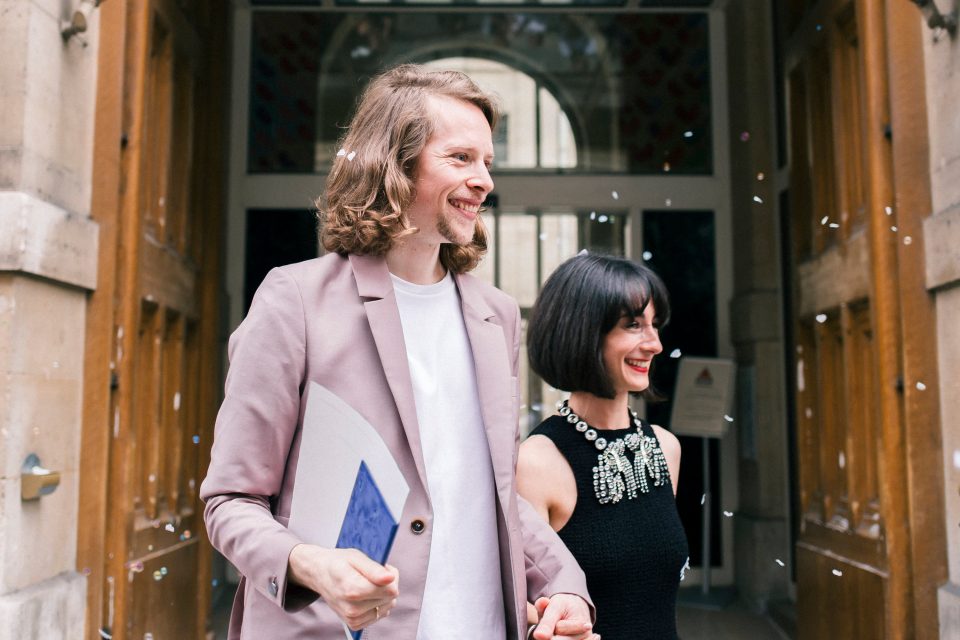 We, of course, did not have a prenuptial agreement, but it's OK because we all laughed about my over enthusiasm to tie the knot. I suppose nothing will help you prepare for those little nerves on the day, nothing perhaps other than that wonderful Scottish tradition of bringing a hip flask of your favourite whisky in your pocket, because well some traditions are there for a reason!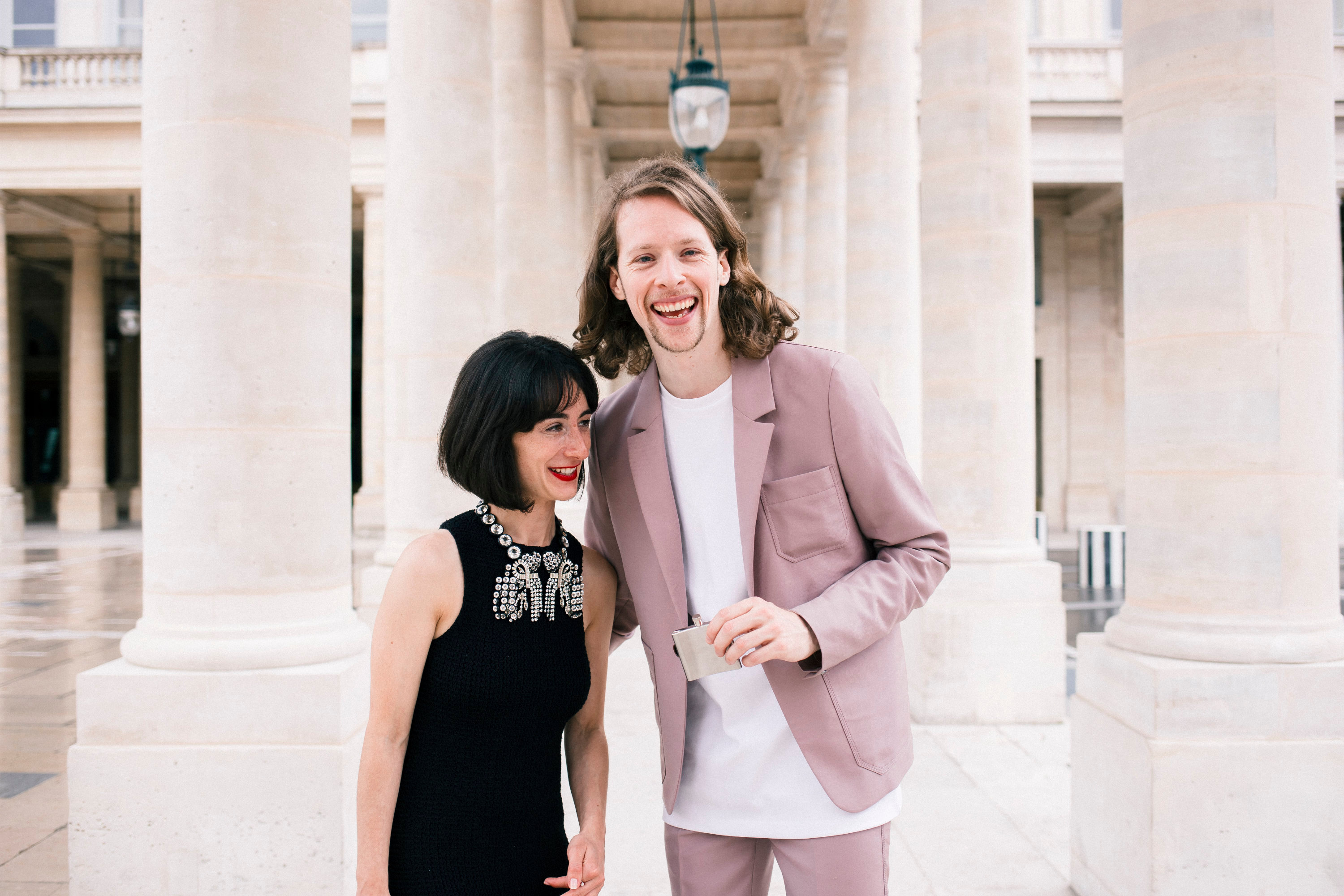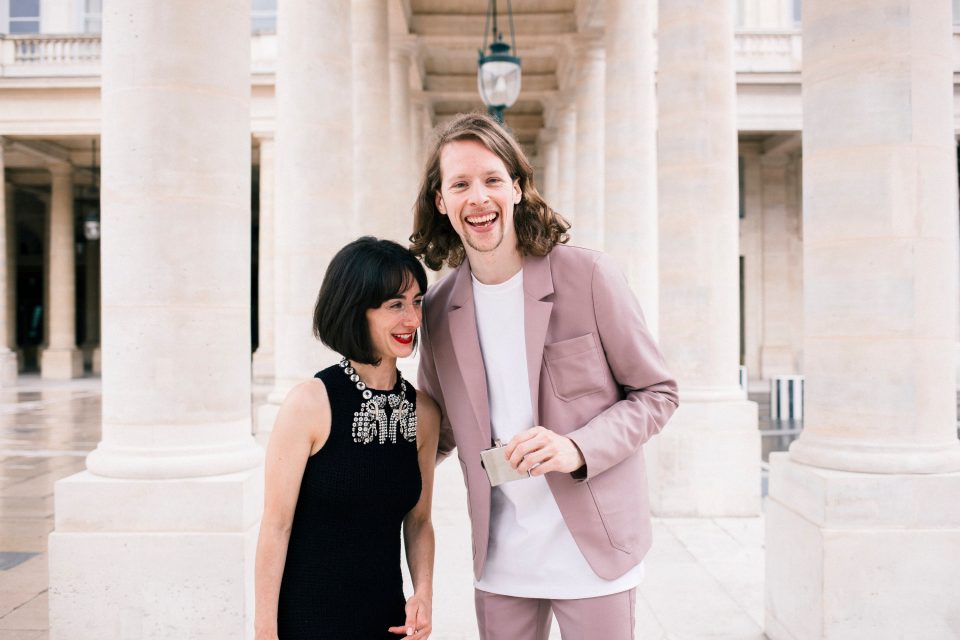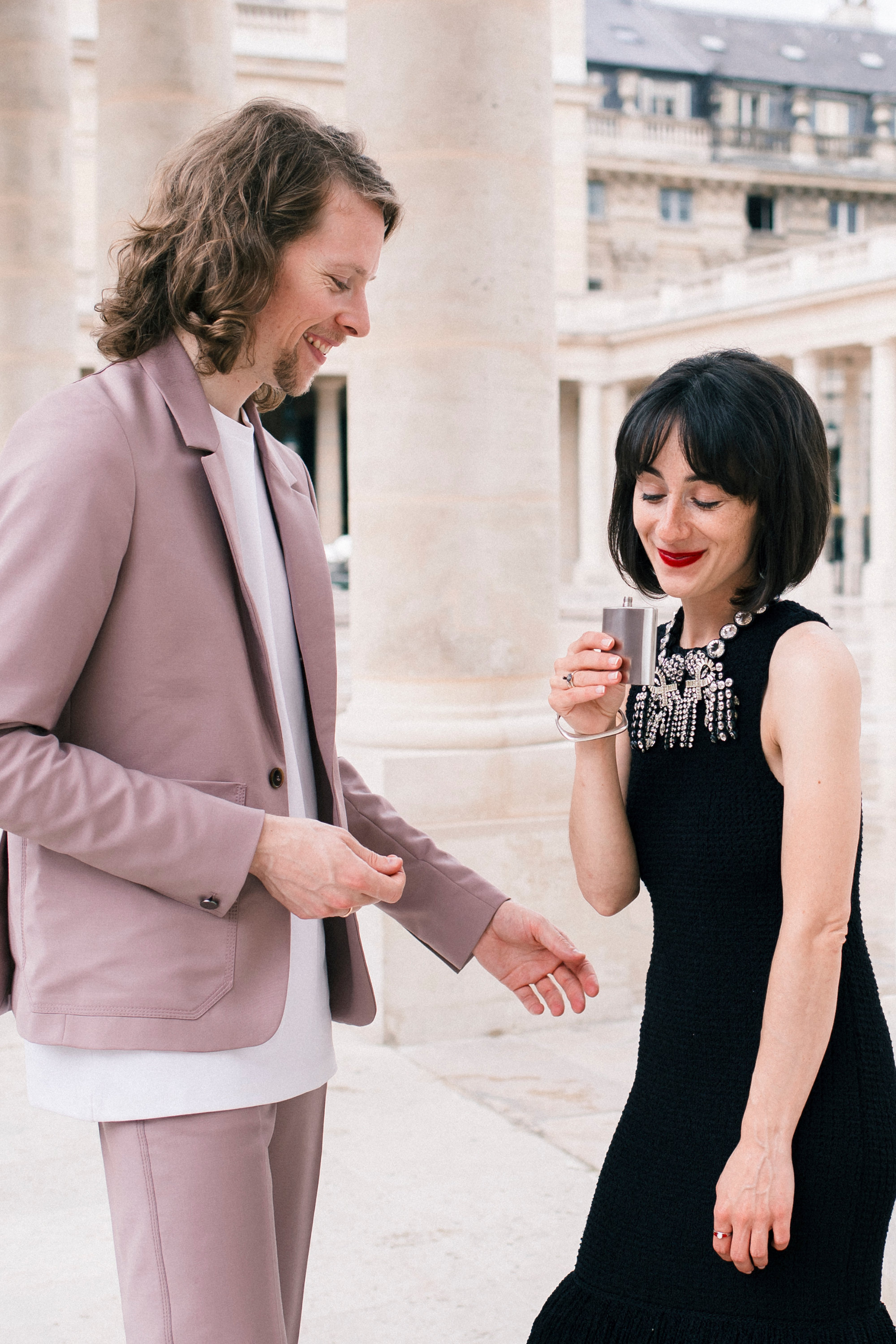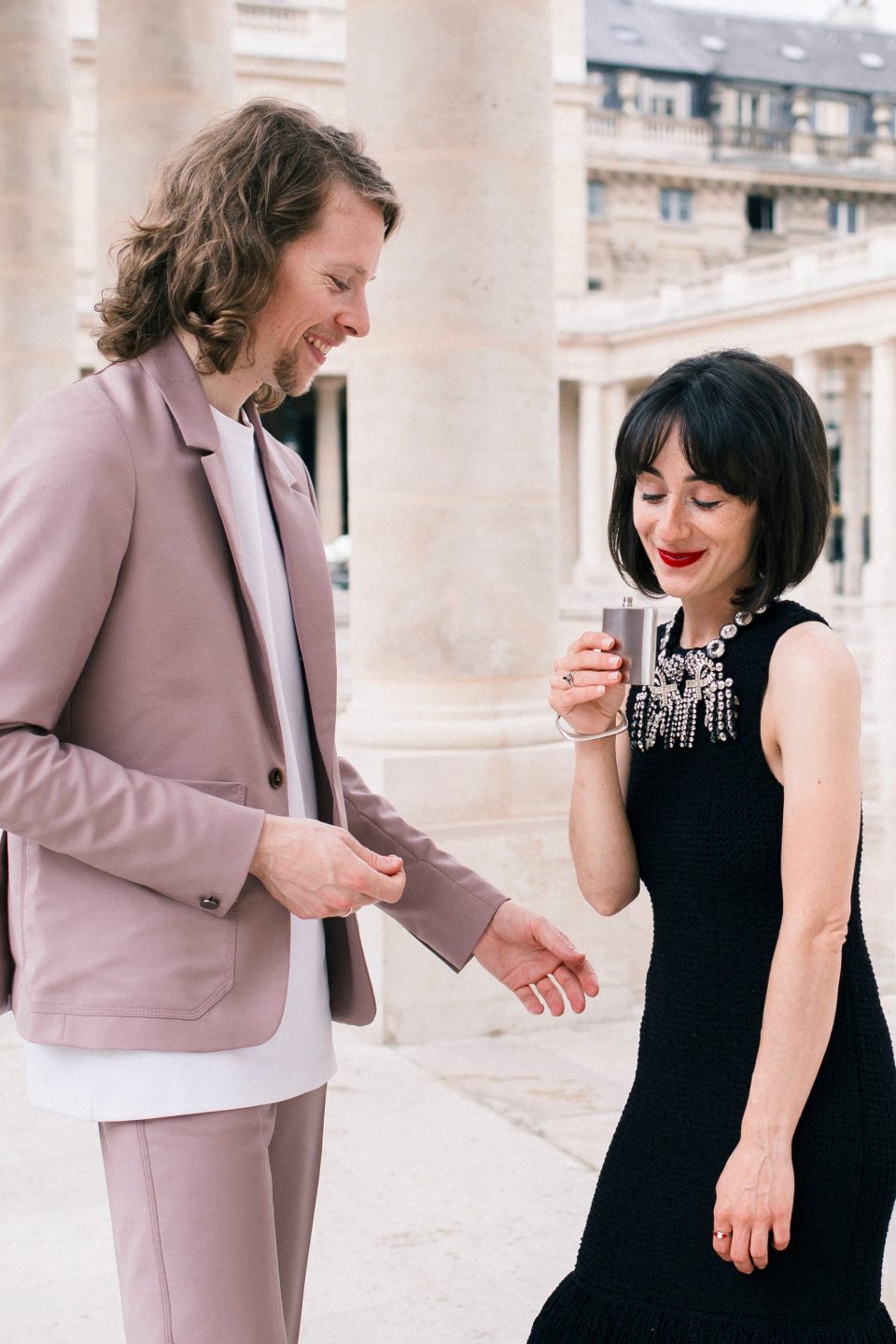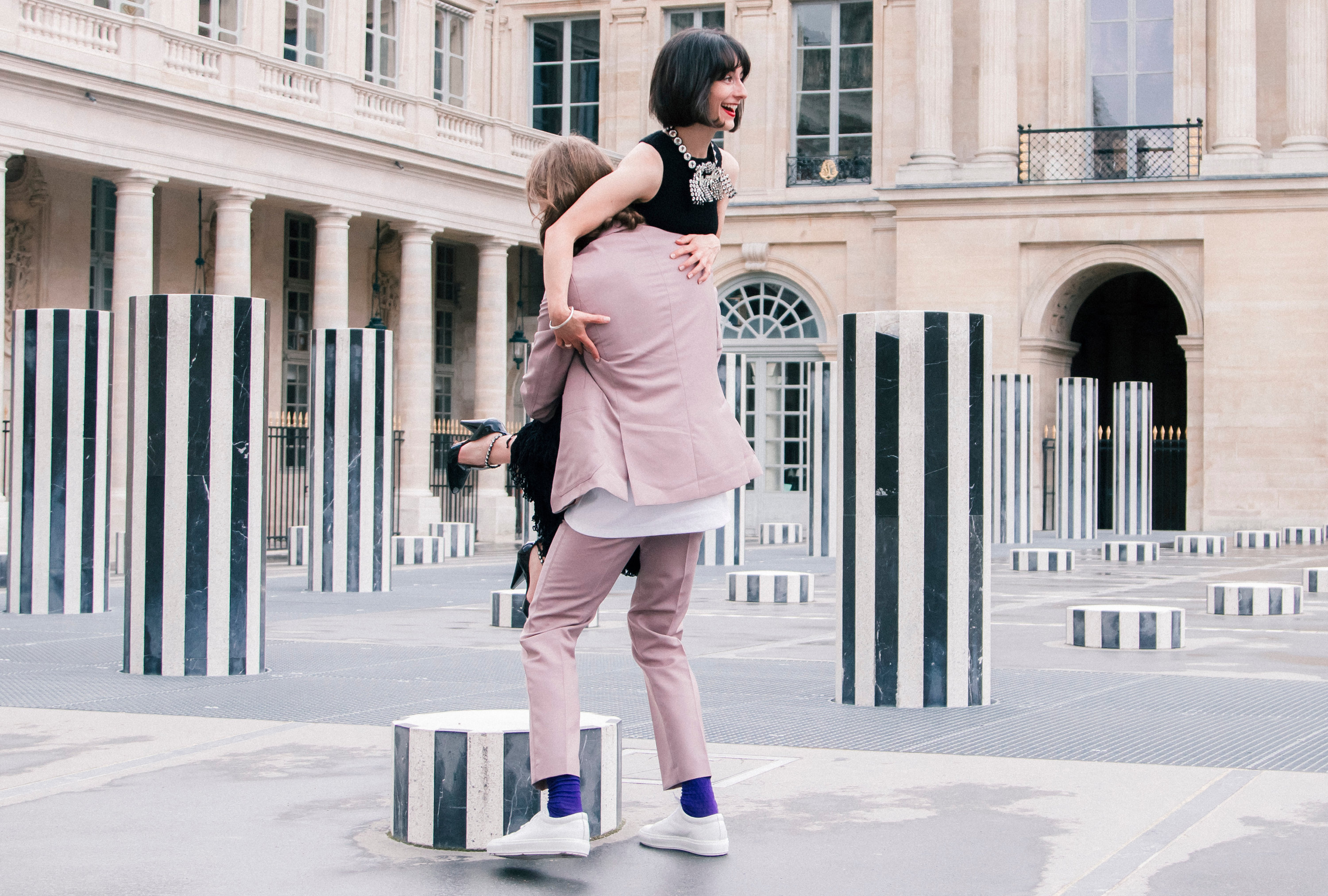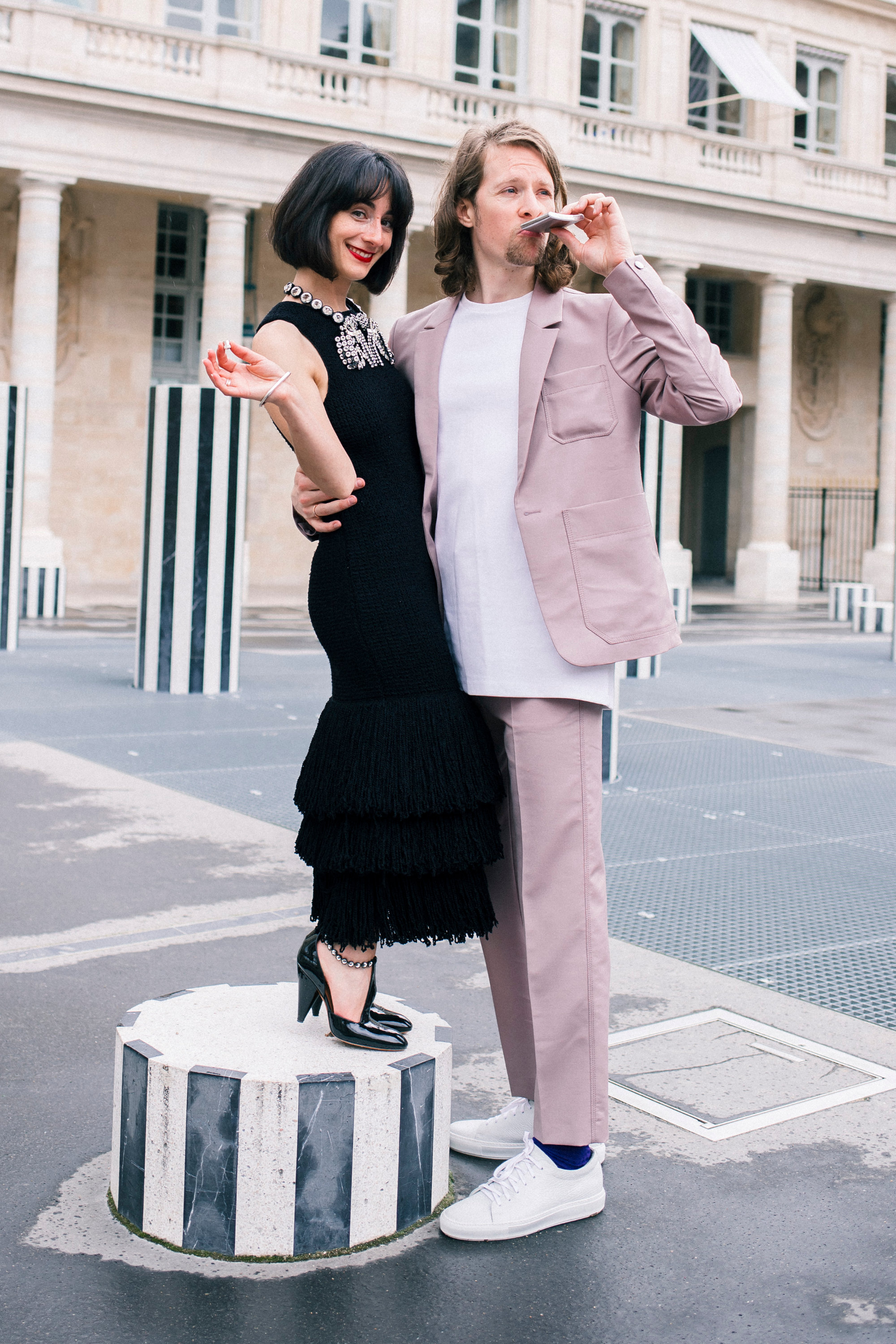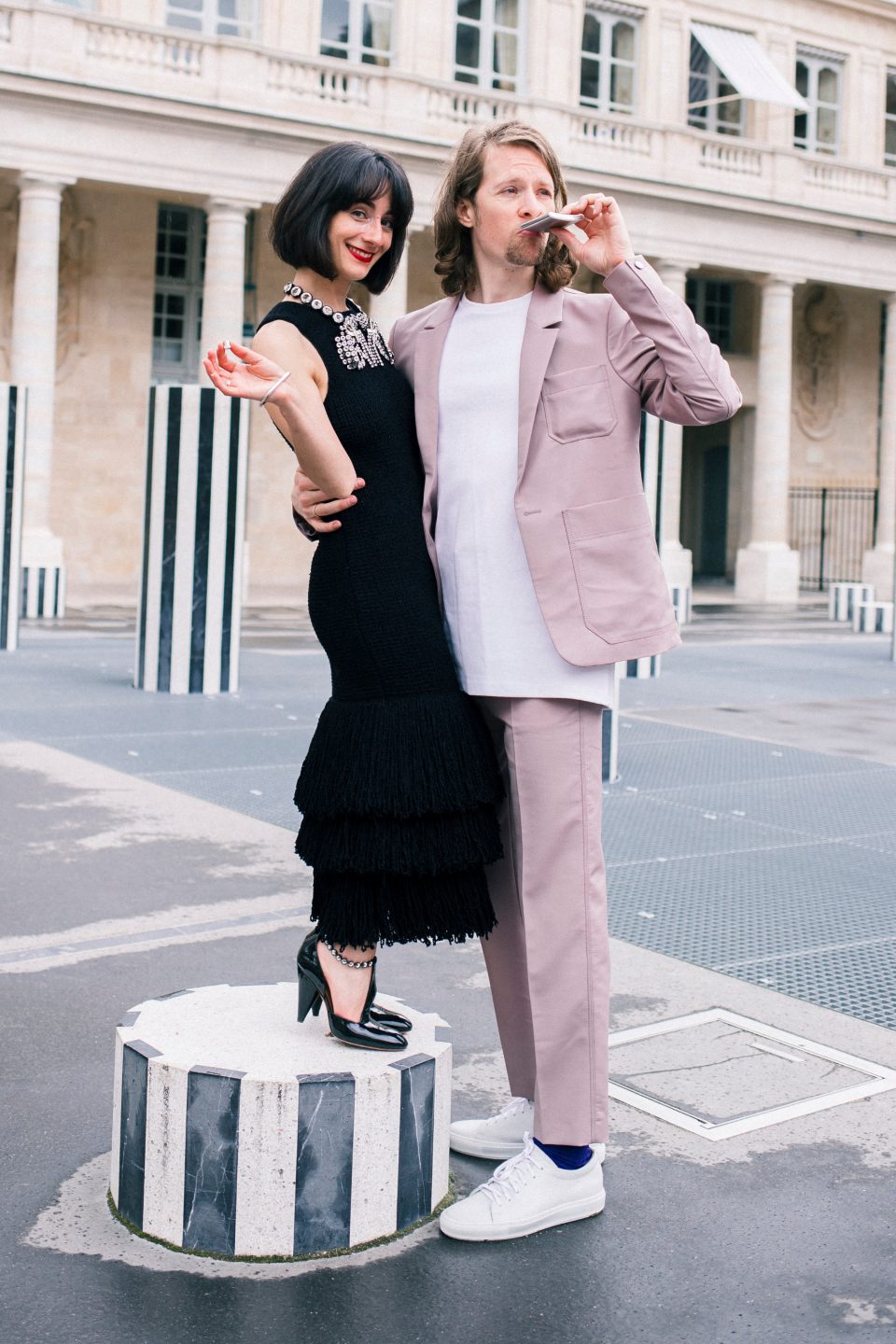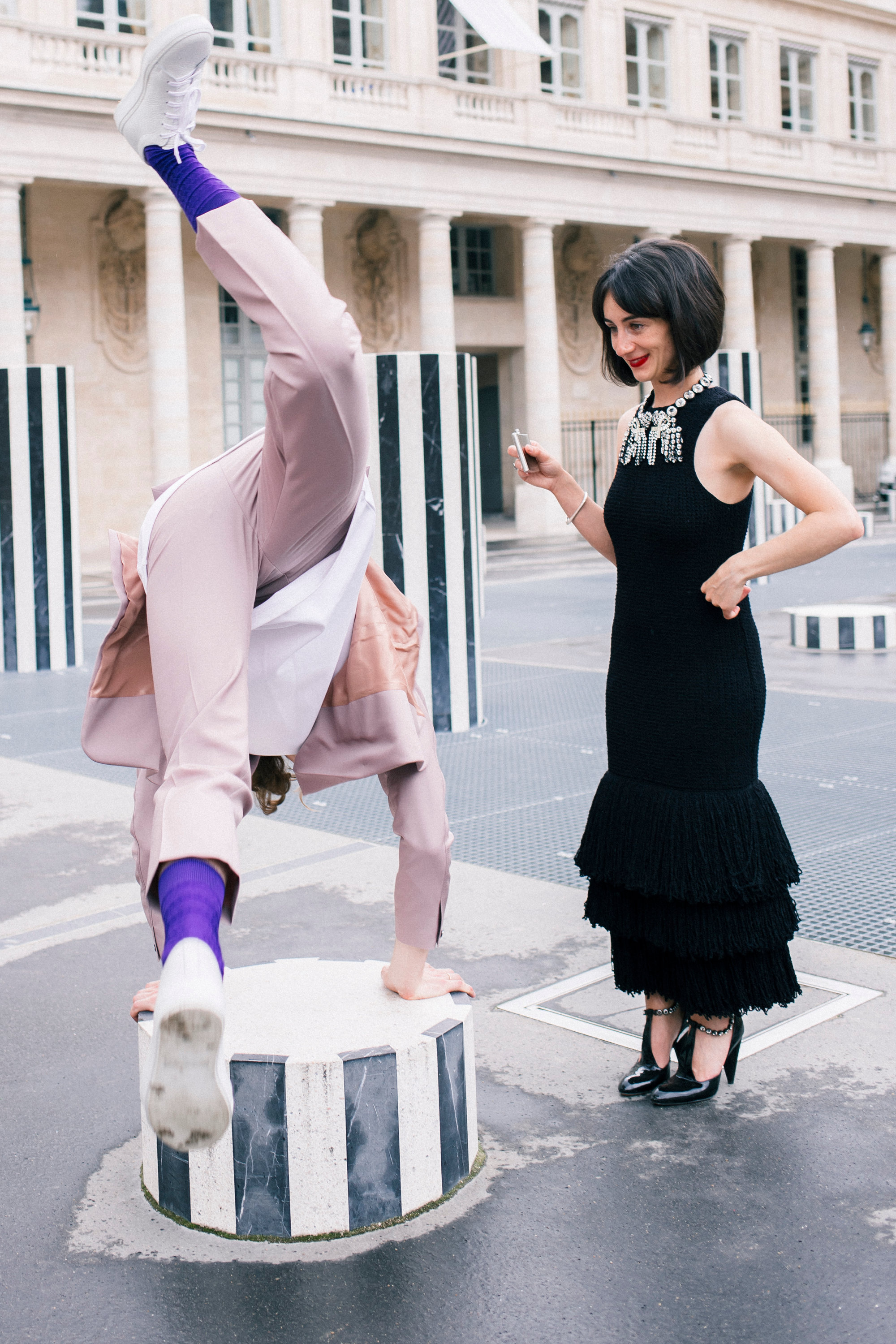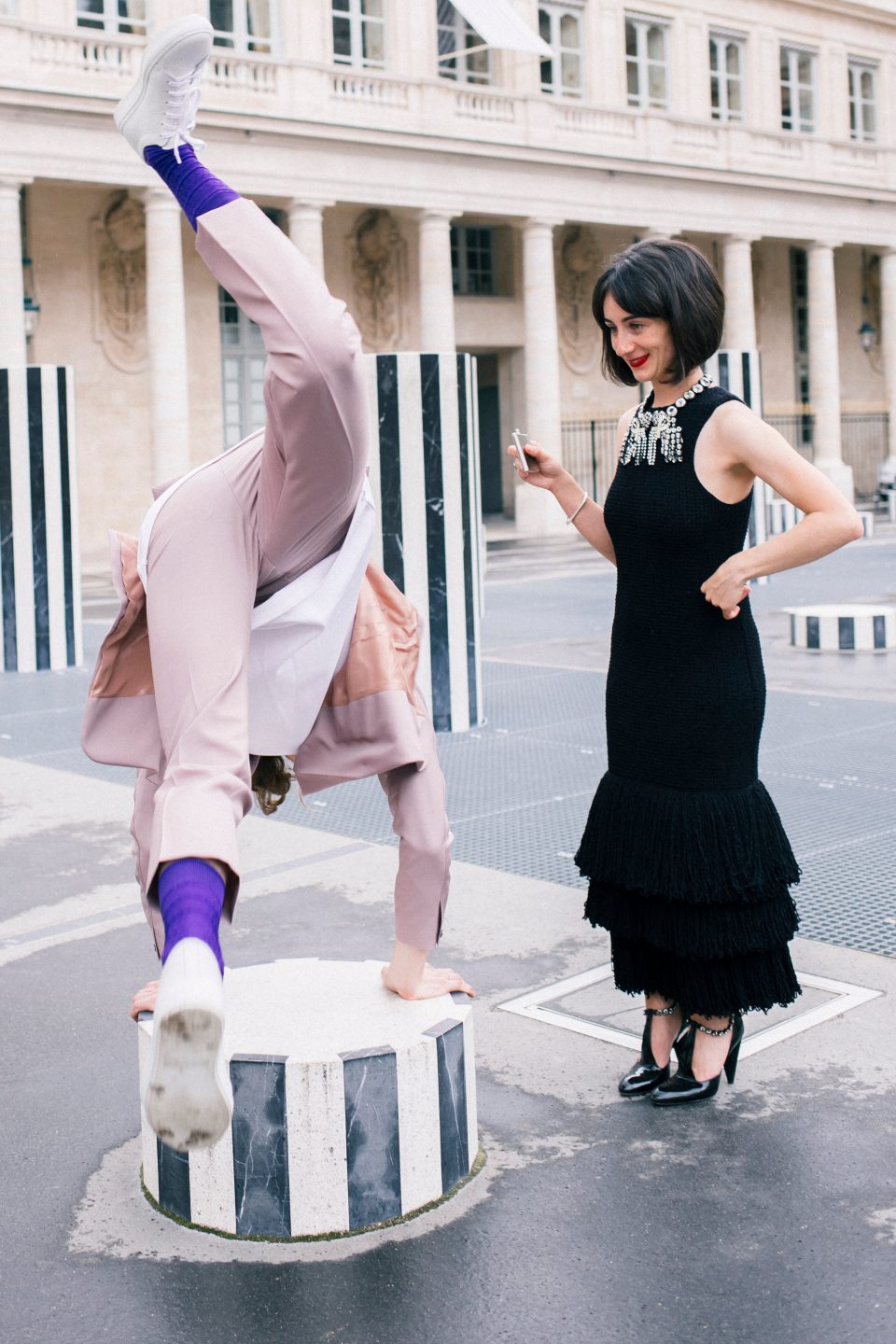 Traditionally in our culture the bride and groom wear their wedding bands on their left hands. And after trying our rings on several times we both just felt it really natural and comfortable to wear them on our right hands – so that's exactly what we chose to do (and continue to have to explain to curious friends).
We're lucky to have been married in Paris, in a beautiful building and to celebrate after in a beautiful garden space at the Palais Royal. We hope by sharing our story that it may help you to craft your own meaningful wedding experience — traditional or not.
Outfit Details
Matt is wearing a total look by Acne Studios
Natalie is wearing a total look by Celine