Last October Valentino's SS16 collection inspired by "Wild Africa" was a beautiful affair of design and craft. While received well by audiences at the show (and surely they are some amazingly beautiful pieces), the online commentary & controversy was that Valentino was culturally appropriating the African aesthetic whilst leaving African people out of the representation.
The feeling and inspiration that artists often get and transmit to the world through their art can be sparked from a wide variety of many sources — truly a natural part of being an artist. But there is a fine line between appreciation and appropriation which I think many in the arts industry should really observe and strive to understand; also to consider the environment that may elucidate controversy like what Valentino (and countless others) have experienced.
At the base level, appreciation is to enjoy something, appropriation is to utilise something. One can appreciate another's culture and partake in the traditions, but as soon as one omits or negates the originators — whether consciously or not — for one's own purposes, that's when appropriation can take a dark turn.
Maria Grazia Chiuri and Pierpaolo Piccioli were thinking deeply about Africa when they were designing for Spring, and not on a whim. For more than a year, tens of thousands of refugees from Senegal, Nigeria, Eritrea, Mali, Gambia, and elsewhere have been making the harrowing journey across the Mediterranean to southern Italy. Packed into unseaworthy vessels, many are dying in appalling circumstances before they reach shore, a humanitarian crisis Italy has been dealing with by patrolling the seas, saving survivors, and giving them sanctuary. As in Germany, which has been receiving hundreds of thousands fleeing from the war in Syria, there has been a backlash against the new arrivals from some quarters. And this is what the Valentino designers want to counteract. "We probably feel that the greatest privilege in doing our work is that fashion can give a message," said Chiuri. "We think every person coming here is an individual, and we can show that we can improve ourselves by understanding other cultures."

"The message," added Piccioli, "is tolerance. And the beauty that comes out of cross-cultural expression."

— Excerpt from Vogue's SS16 Valentino show review by Sarah Mower
Valentino's SS16 fashion show showcased the immaculate design & production values of the fashion house, as well as the skill of its artisans. And yet, the beauty of the pieces don't hide the fact that the aesthetic throughout a lot of the collection is imitation African, almost wholesale in some pieces. While their inspiration is in "cross-cultural expression", combined with the fact that most of the models are white with African-inspired cornrows and walking to thumping drummed music (further invoking the "primitive" African tribal connection), it is cross-cultural — just not observably inclusive.
No matter how hard Valentino justified and defended their intentions (meanwhile, let's not forget how big and diverse Africa is too), it seems they left out Africa when it came to fair representation at the show, thereby verging more on the exploitative side of cultural appropriation. Even when looking at the advertising campaign we see predominately white models standing in expensive clothing amongst Masai people and villages utilised for aesthetic and cultural value, lending another negative interpretation to the proceedings. Perhaps the wrong kind of inclusivity?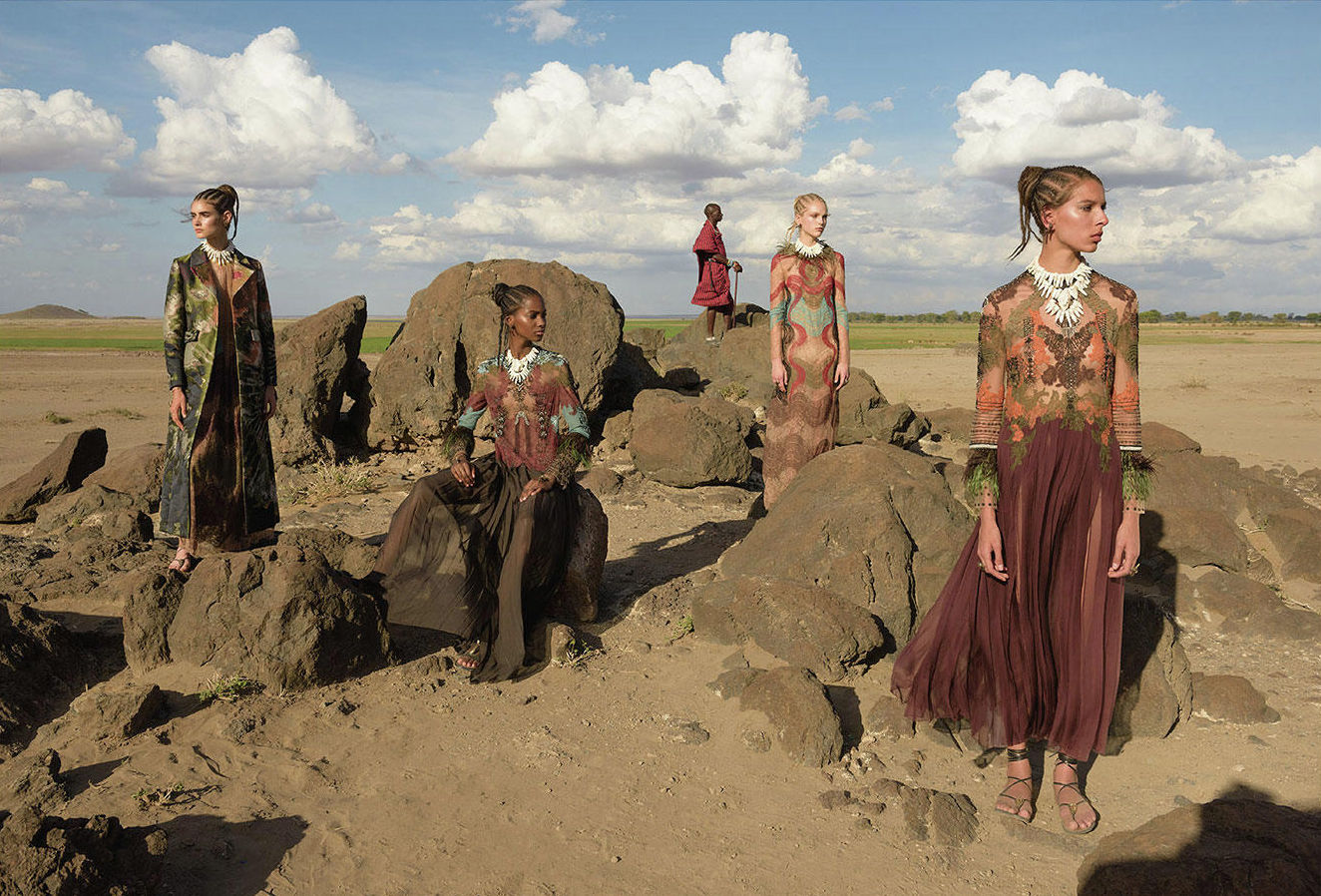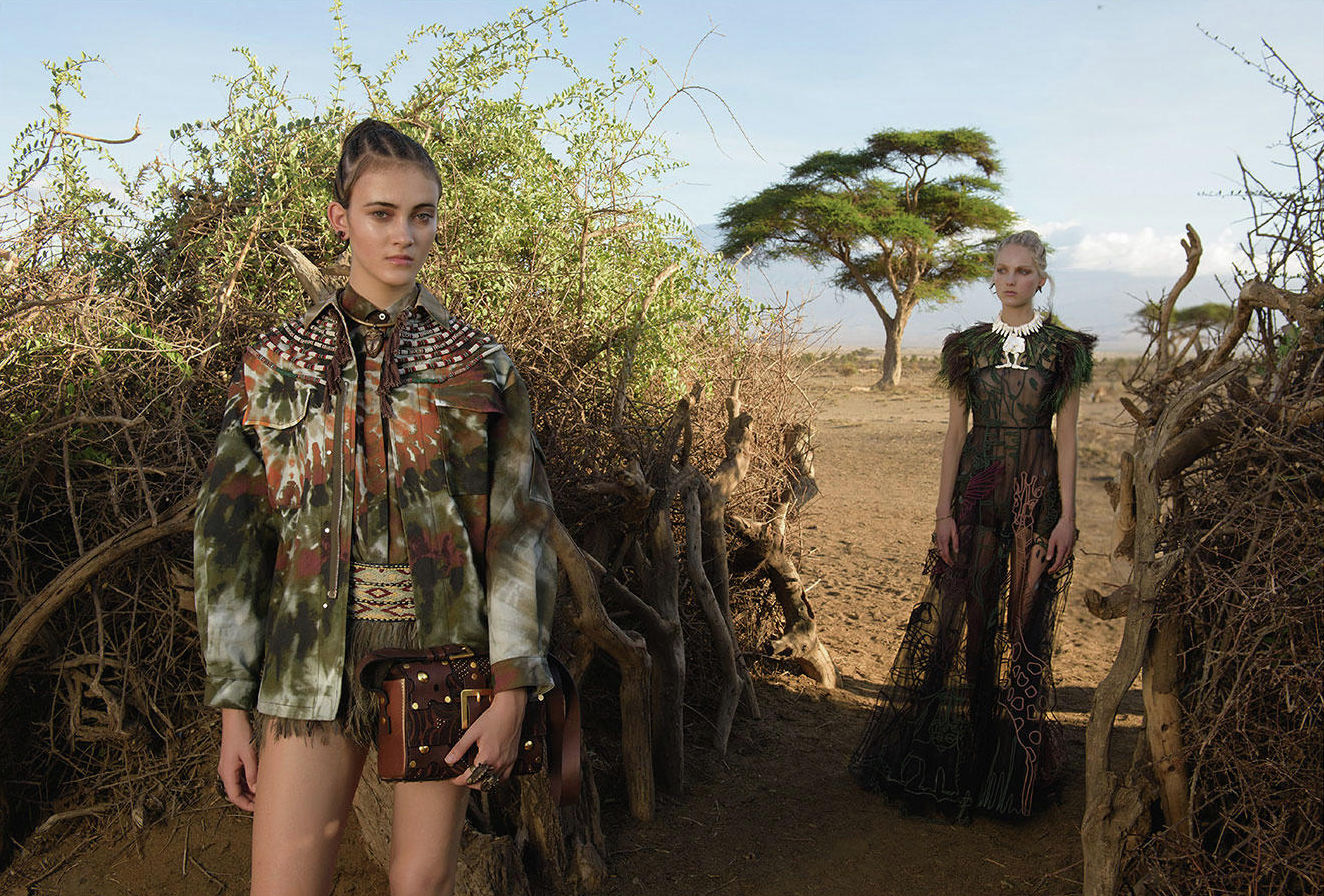 While "homage" and "respect" may have been the original intentions in the transmission of the work, it can often not bode well in the public reception of the work. Considering Africa's long exploited history by foreign colonialists, the omission or superficial inclusion of African cultures and its people could be seen as cultural imperialism. With a continent as large and diverse as Africa we could also assume that there are some African groups who are happy with the attention and representation via Valentino's work — my argument is that Valentino should have integrated African people closer within the process and not generalised the representation, as it unfairly simplifies the diverse continent and its people into a marketable stereotype for Valentino's commercial gains.
We see this kind of attitude a lot in popular culture: Gwen Stefani and "Harajuku Girls", Avril Lavigne and "Hello Kitty", and Miley Cyrus's appropriation of Black America in "We Can't Stop" are all examples of cultural appropriation via homage, inadvertently being cultural imperialism (complete with public backlashes). All these examples have different levels to their appropriation, but at the forefront is the prominence and exclusivity of the appropriator grafted into the culture of the originators, essentially enhancing their own value against the common or "otherworldly" characteristics (often generalised or stereotyped) of the "other".
In terms of positive cultural appropriation in fashion, Valentino proved they could respectfully integrate a culture that inspired them, by including the Native American Métis artist Christi Belcourt all the way through the design and marketing communications process of the Resort 2016 collection. To cite another company's positive example, Chanel appropriated Scottish culture within their Pre-Fall 2013 collection, which incorporated Scottish manufacturers Harris Tweed and pattern and knit designs inspired by tartan, Argyll, and Fair Isle. Even the fashion show itself was held at Linlithgow Palace in Scotland. This shows that cultural appropriation can be done with respect to the originators, that integrates them into the narrative of the production and presentation, rather than pure aesthetic exploitation.
Interestingly, though, as recently as this year for Valentino's Fall 2016 Menswear collection it seems they've appropriated Native American patterns and styles for a third of that collection. I haven't found any conversation online detailing if this cultural appropriation is inclusive of the appropriated culture or not. So Valentino have proven they know how to respectfully include a culture and its people within a commercial fashion narrative, but have at least once (maybe twice) erred on those counts, all within the span of a year.
Interestingly again, Chanel came into some recent appropriation hot water too. As recently as last December (Pre-Fall 2016 Collection) they were accused of appropriating a Scottish Fair Isle knitwear design by Mati Ventrillon, when the designer herself called them out on Facebook. You could certainly argue this is a case of copyright and intellectual property since it is about a copied design per se, but on top of that I say it's cultural appropriation; Chanel appropriated the tradition and history of Fair Isle knitting and design for the purposes of commercial fashion, since there was no mention or inclusion of the originator until after she had called them out (they are since crediting the pattern design to her now).
The concept of designing with a culture's intrinsic values in mind segues into another interesting topic, such as targeting specific markets with specially designed clothing ranges. Dolce & Gabbana are creating a range of hijab and abaya clothing for Muslim women, one seen as a sound business move, though not without its critics. The integrity in this idea is that the fashion house is crafting these looks and styles with a culture's needs in mind (sound business strategy), as opposed to appropriating the style and values of the culture for a different market. Often with cultural appropriation the practices of appropriators (such as commercial businesses) seek to leverage a culture and its communities' aesthetic for market differentiation; in this case I argue that Dolce & Gabbana seek to actively support the Muslim fashion culture and communities with their new range.
So while there is a fine line between appreciation and appropriation, I feel it's really a matter of how we include and respect our inspiration sources, by either integrating them within the narrative, or by leaving the inspiration within the research process, pushing to develop the ideas further than to merely imitate and exploit, whether intentional or not.
Picasso may have once said "good artists copy; great artists steal", here's a more acute saying from T.S. Eliot about appropriation, which itself was developed from another writer's quote:
Immature poets imitate; mature poets steal; bad poets deface what they take, and good poets make it into something better, or at least something different.
However fine we all may perceive the line, I feel it's really important that those stepping on it understand and explore the implications of the work's influences and inspirations in the public space, whether you're a designer or consumer alike.