We had the pleasure this late Spring to sample the cuisine at a restaurant not far from our place in central Paris, located just a hop away from the Bourse metro stop: A. Noste. A contemporary French restaurant, it takes some of its inspiration from the regions of Gascony and Basque ("a noste" in Gascon means "to us"). We were informed about A. Noste's existence by citizenM, a great chain of hotels who also publish a magazine website called citizenMag, who treated us to the evening's culinary expedition.
The downstairs was decked out with outdoor street-facing seating, and inside had a gastro pub vibe which specialised in tapas and other such fare. The high tables and chairs and a converted van-now-sandwich-bar added to a really fun, casual and bustling vibe (the place was packed!). Our evening was to be spent upstairs in the quieter fine-dining "La Table" area.
The restaurant's interior was just as well considered upstairs as downstairs, albeit slightly more sedate (no large vans). A. Noste sits within Paris' latest wave of contemporary restaurants with wooden furnishing, slate grey walls and dimmed spiral filament glow-worm lighting, which makes you feel like you're in a fashionable countryside abode straight out of a Homes & Gardens magazine. There are plenty of places we've seen in Paris who get the lighting just plain wrong (restaurants shouldn't be lit up like a hospital!), and thankfully A. Noste was lit at seductive-like levels seen in vintage Playboy penthouse suite photoshoots.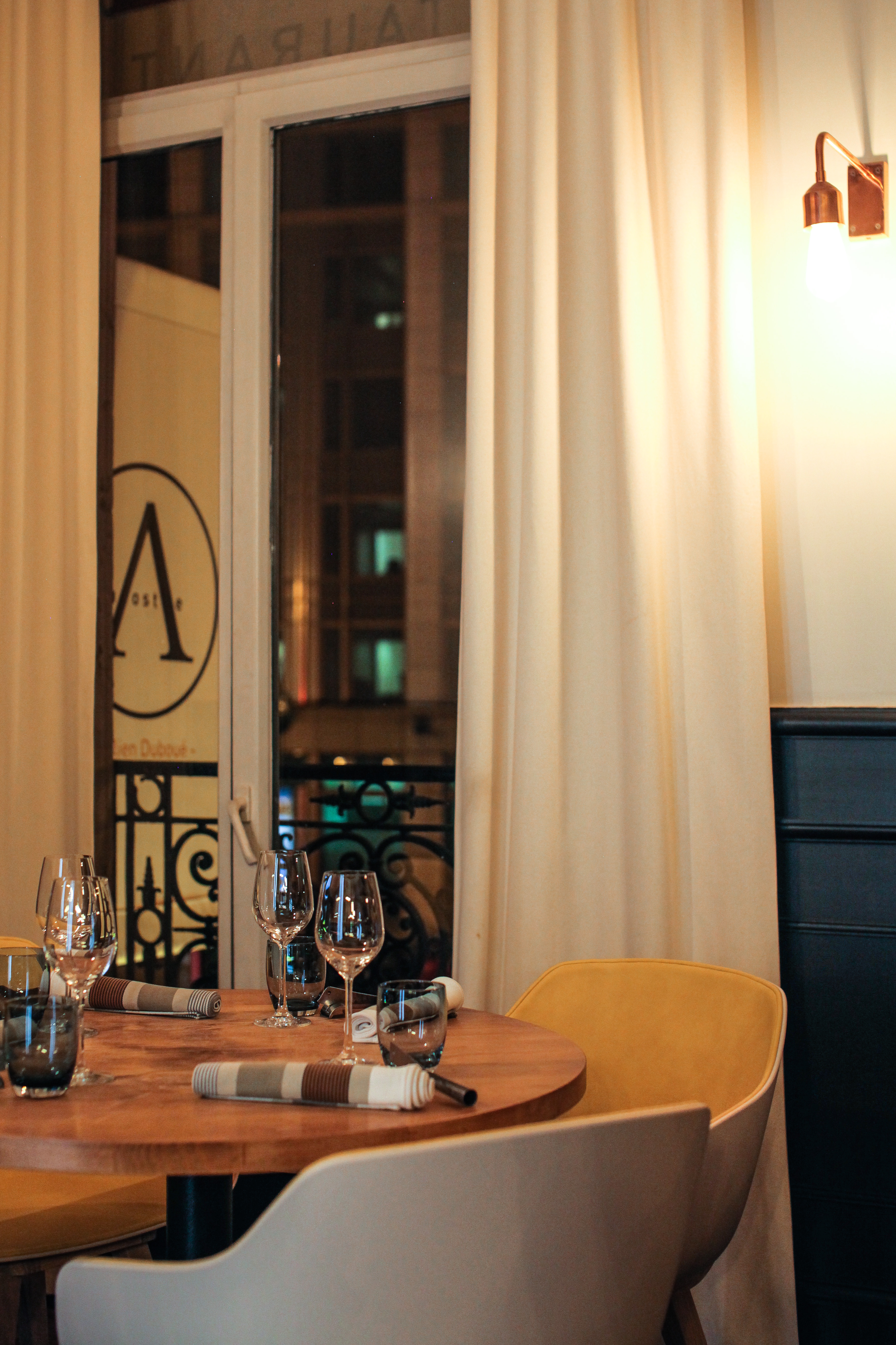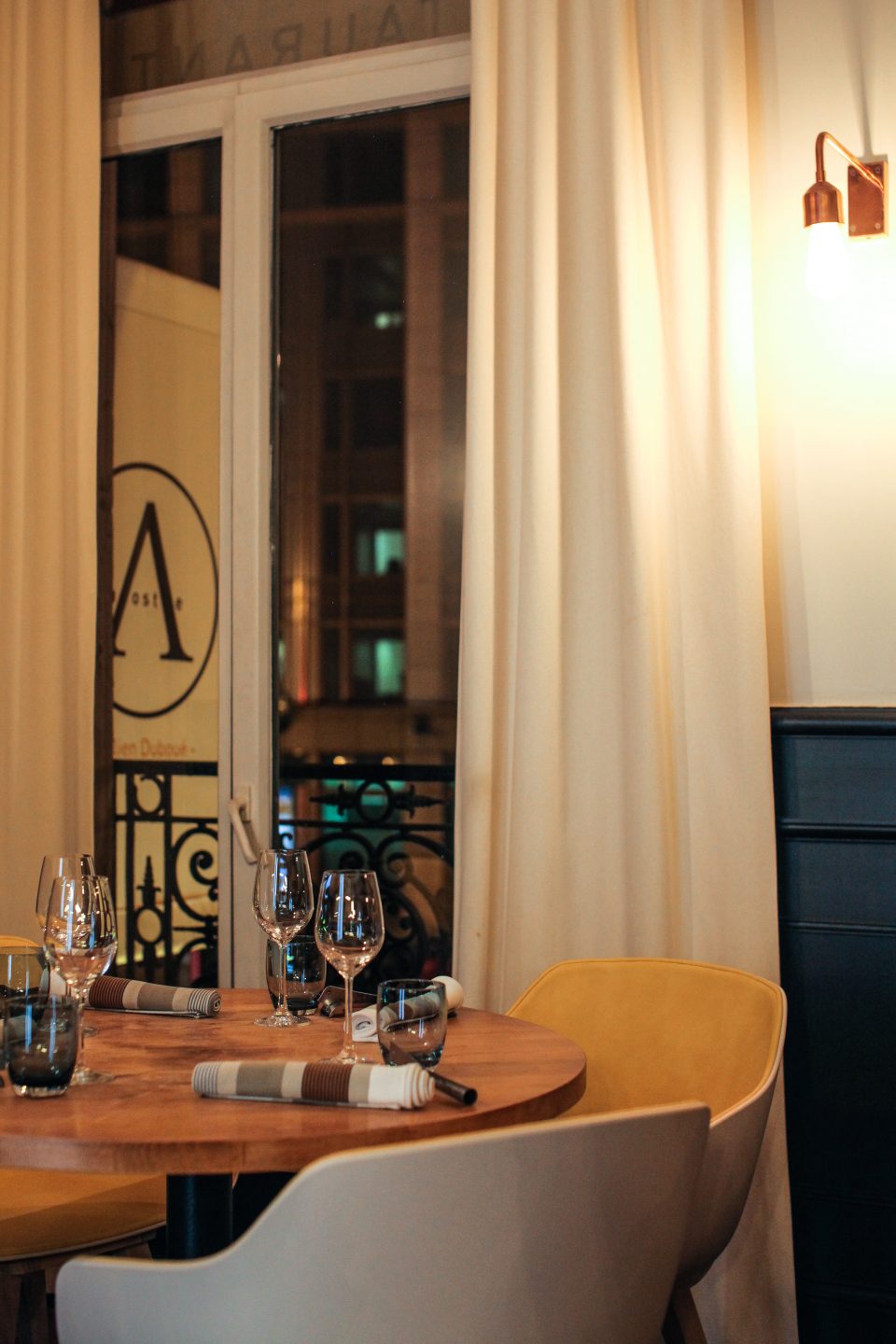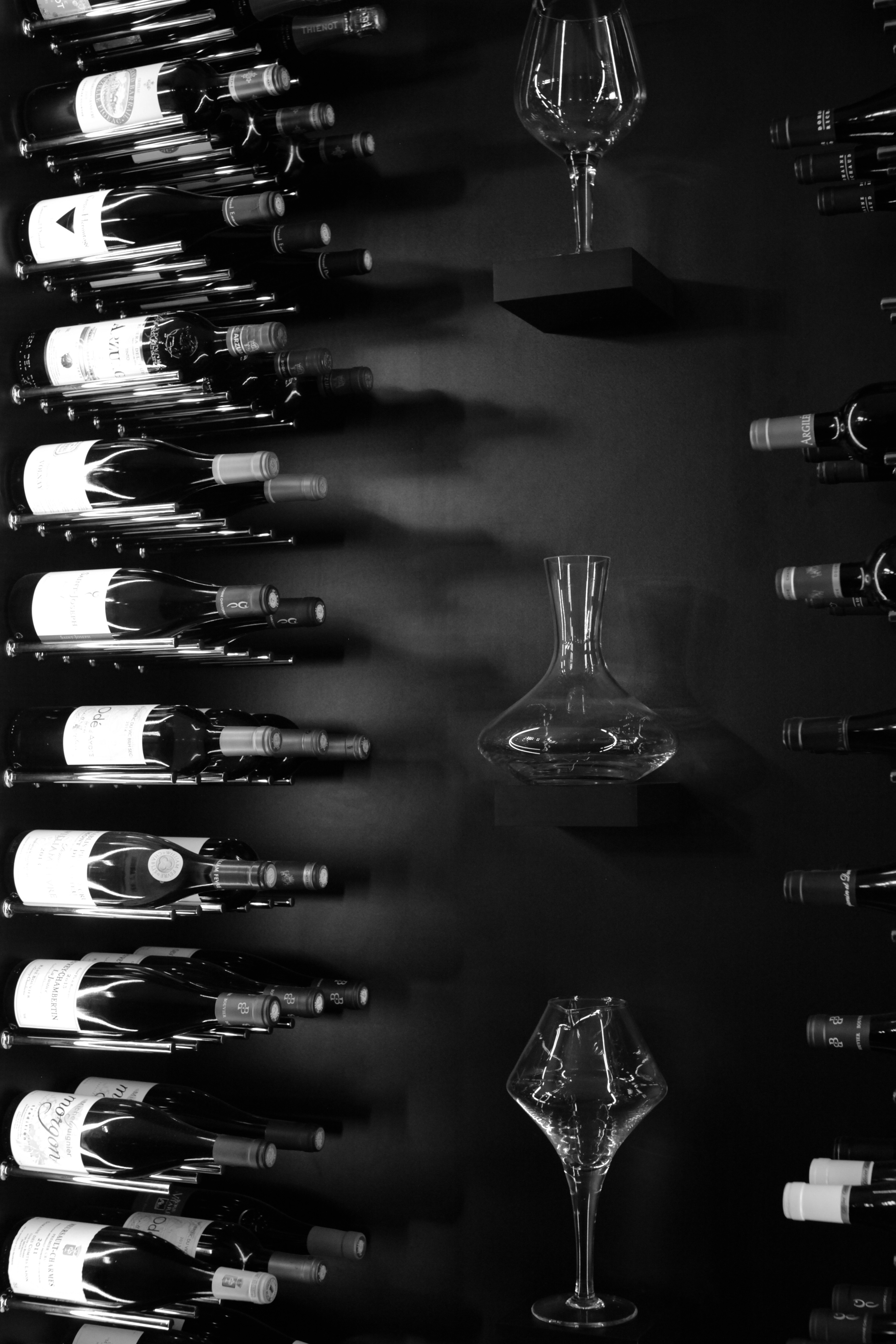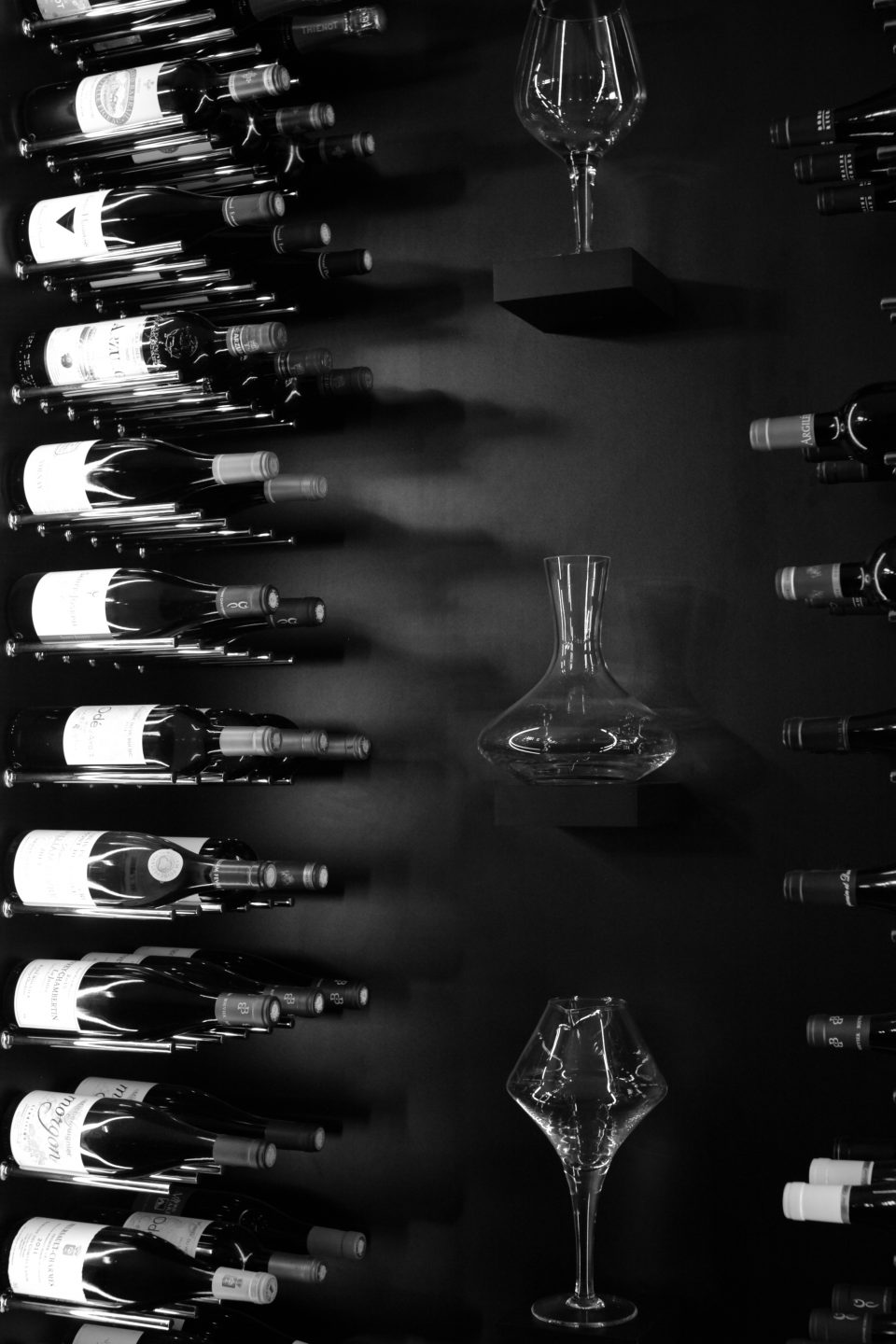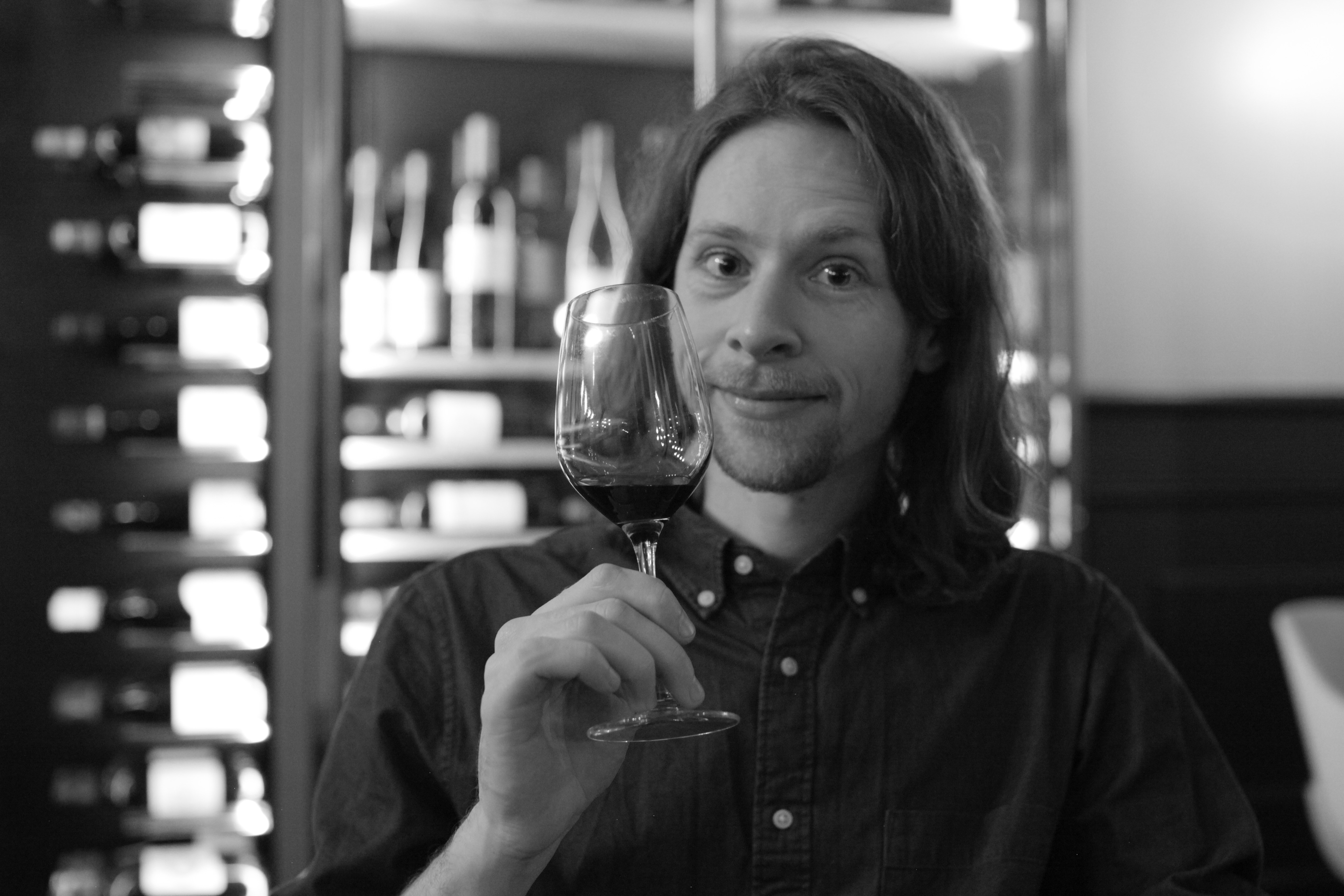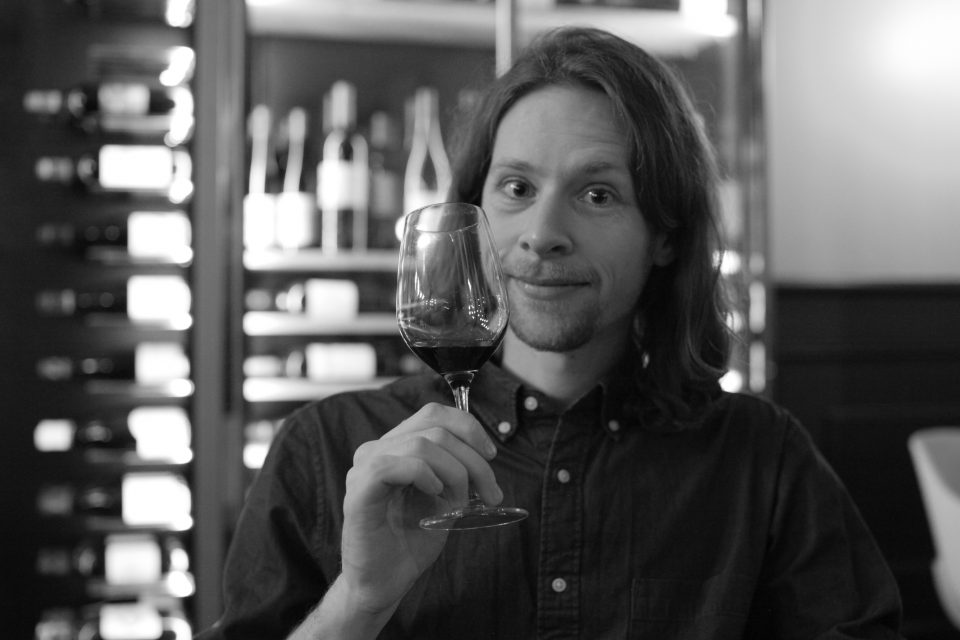 The first course was the "amuse bouche": a small copper bucket ("It's pronouced 'bouquet'!") filled with tiny steamed veges with a "terre d'olive" (olive soil?) which we can only guess is a dehydrated olive tapenade. Yes, from the get go we were certainly in for a wild ride! The knives looked like they were taken from slasher films, and the butter had a mixture of sweet and sour fruits and veges mixed in.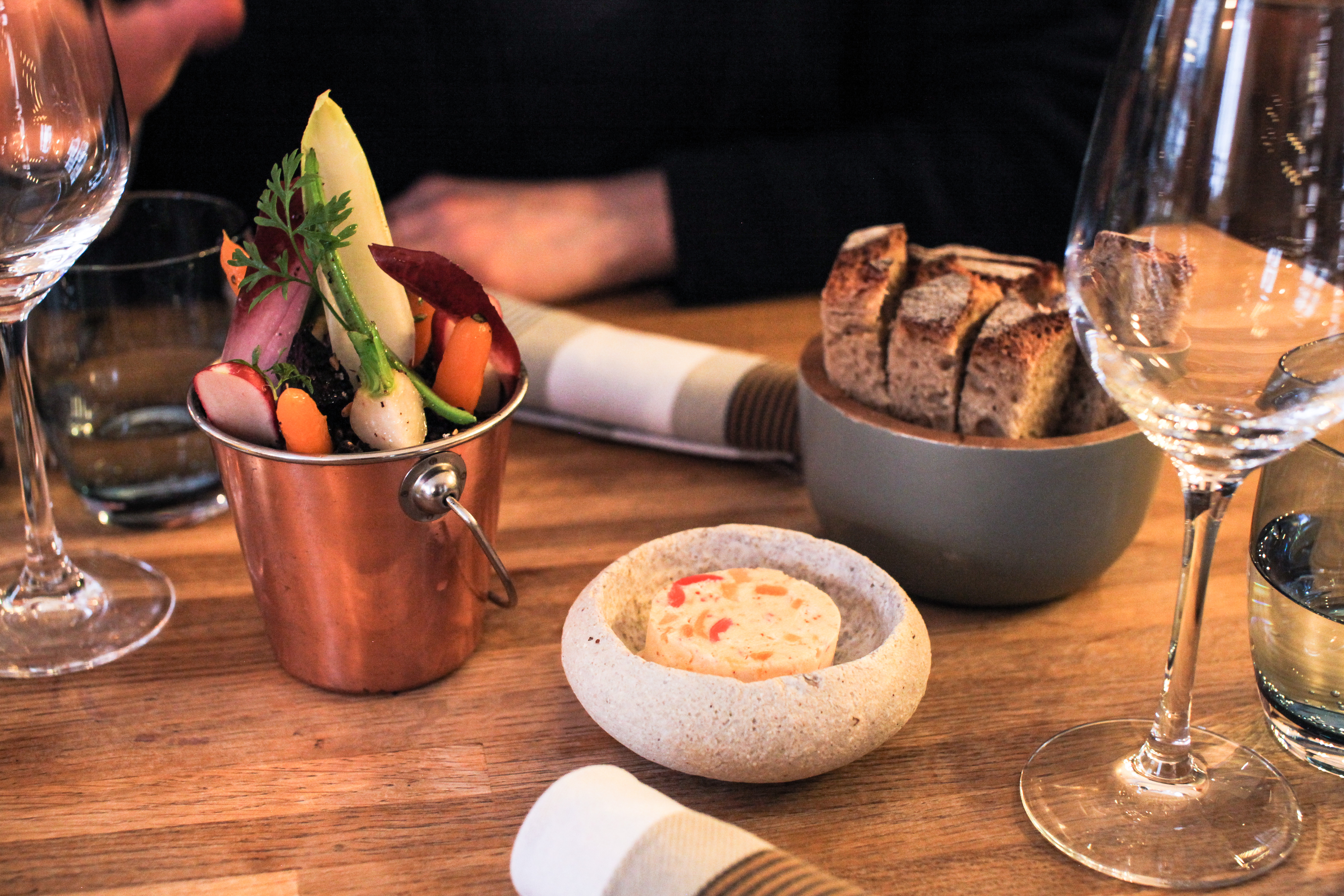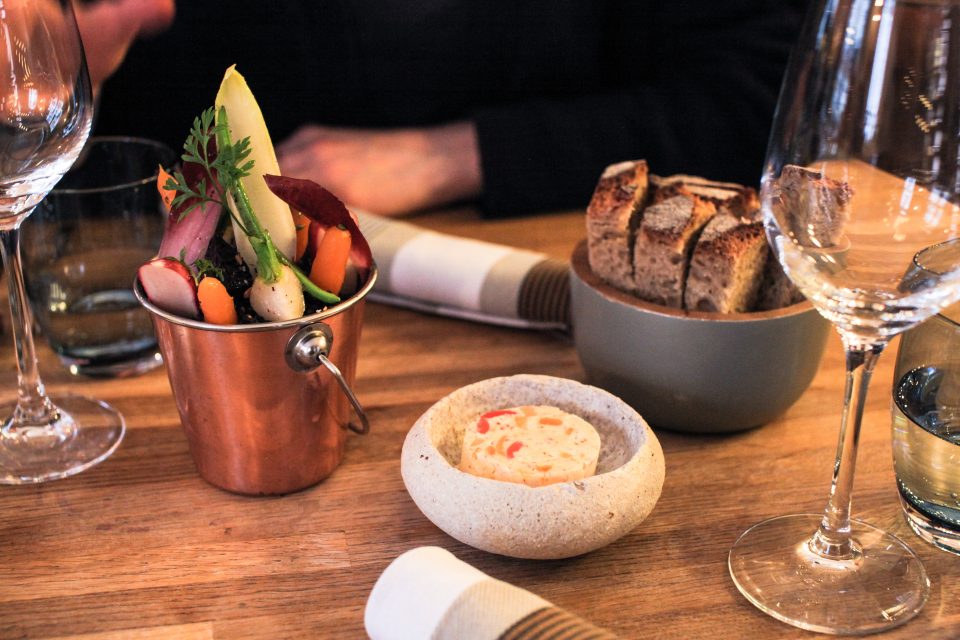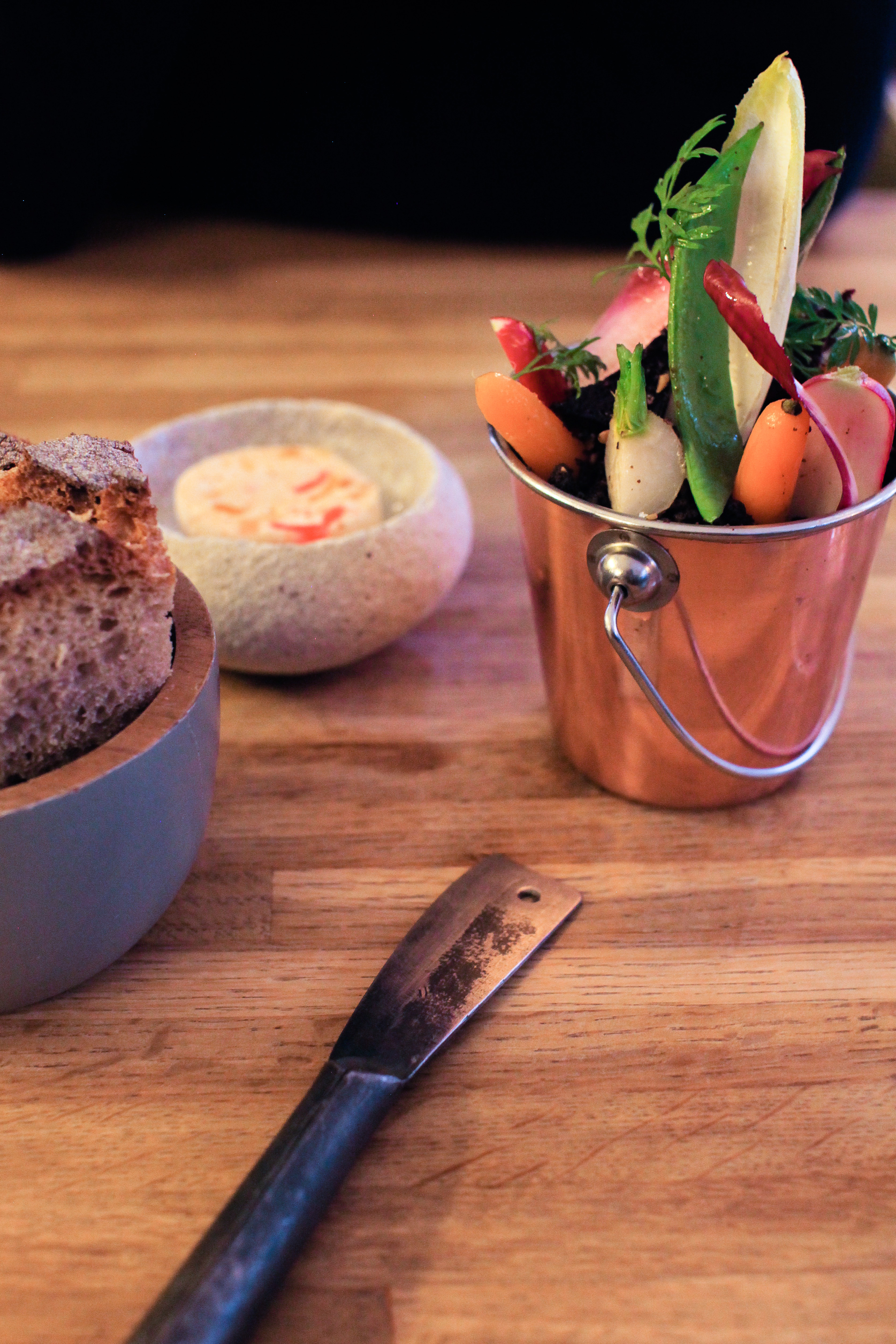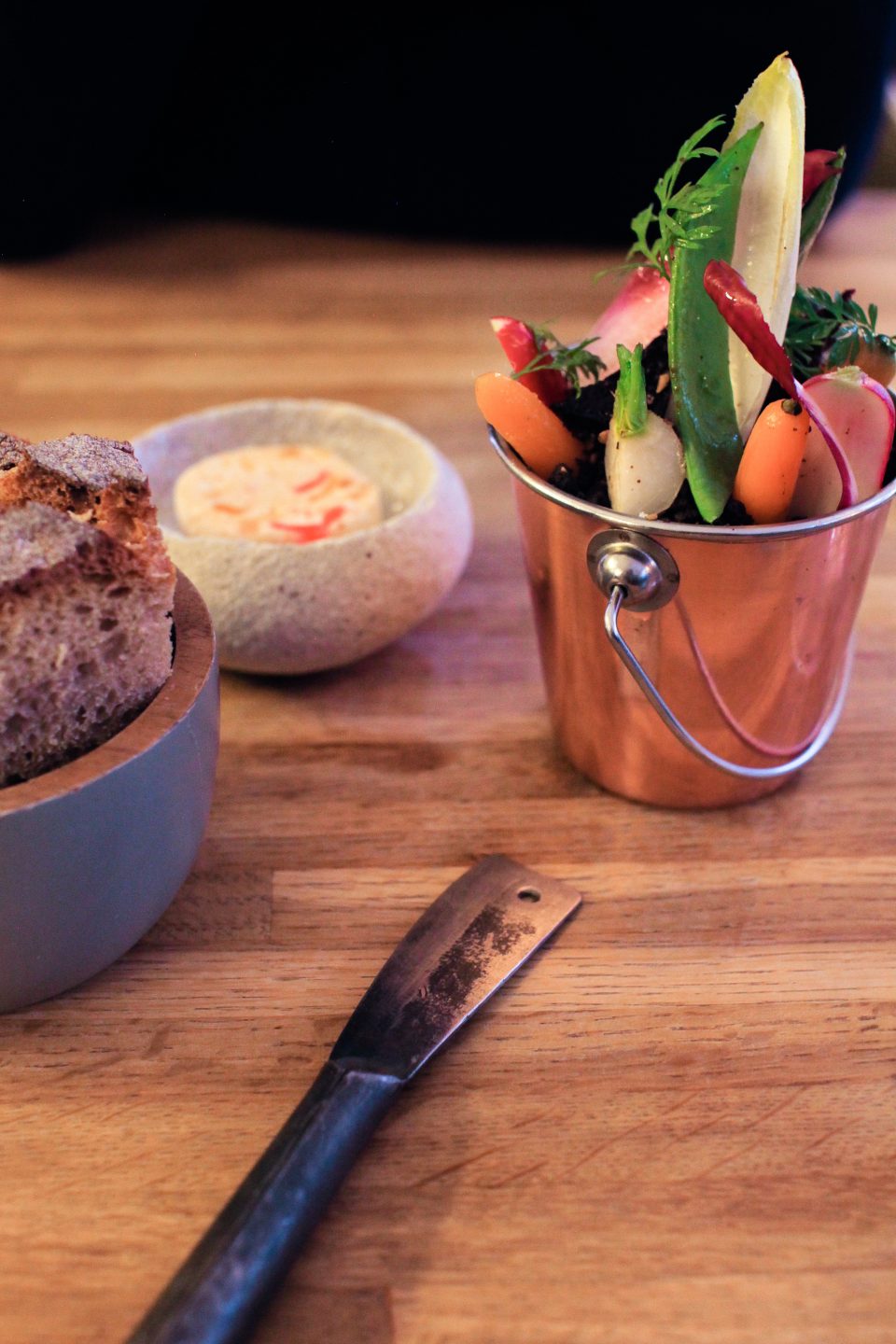 Up next came the "velouté de petits pois à la française" — pea soup. Sounds unassuming, doesn't it? Add in some lobster (homard) and caramelised squid ink on the top and we've got ourselves a delightful second course. The foamy pea soup was so light and creamy, and the spectacle of the crusted squid ink balanced on top of the dish was one of those fine-dining moments restaurants strive to create. A. Noste's ability to entertain through the creative presentation of the dishes was a consistent factor of the night.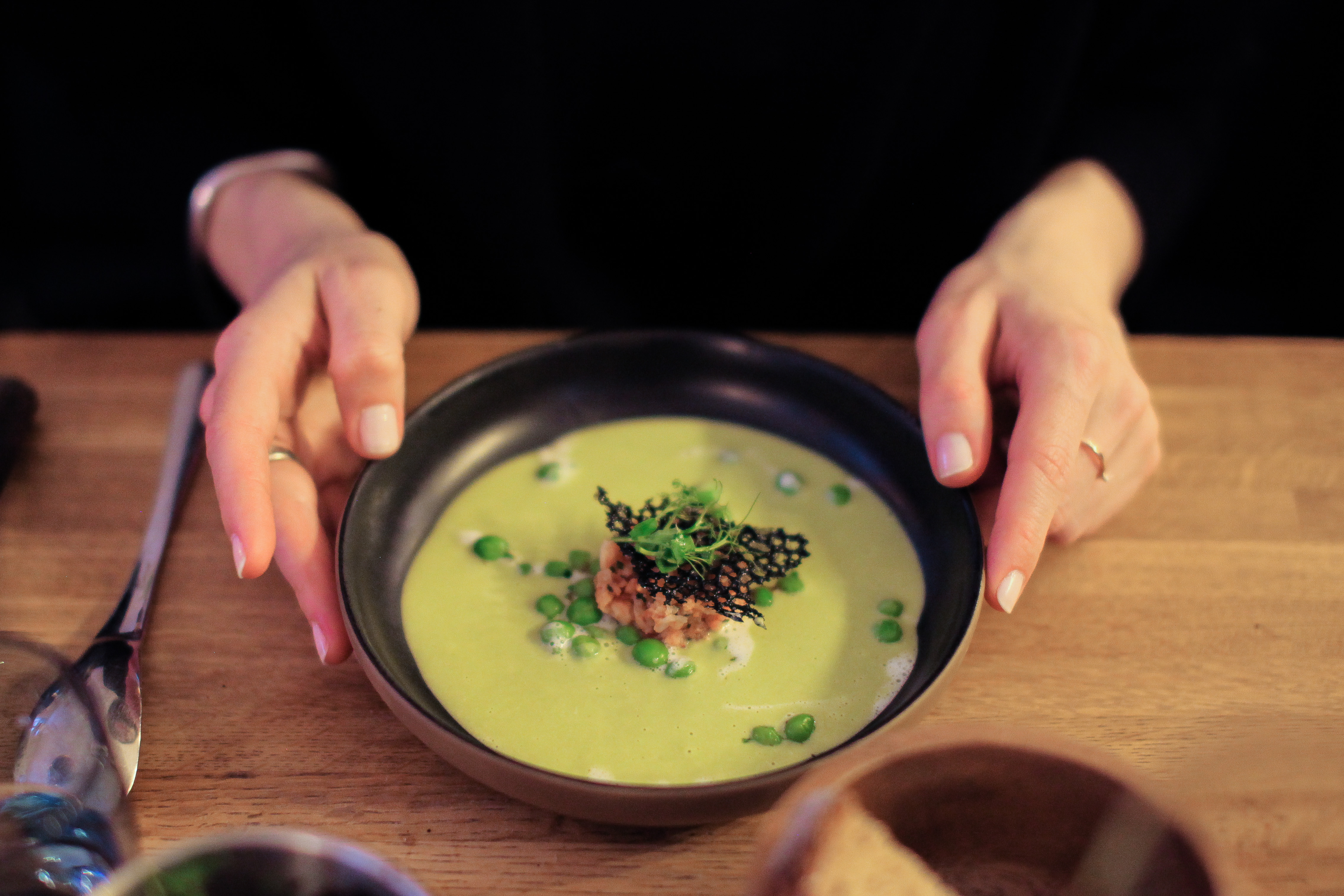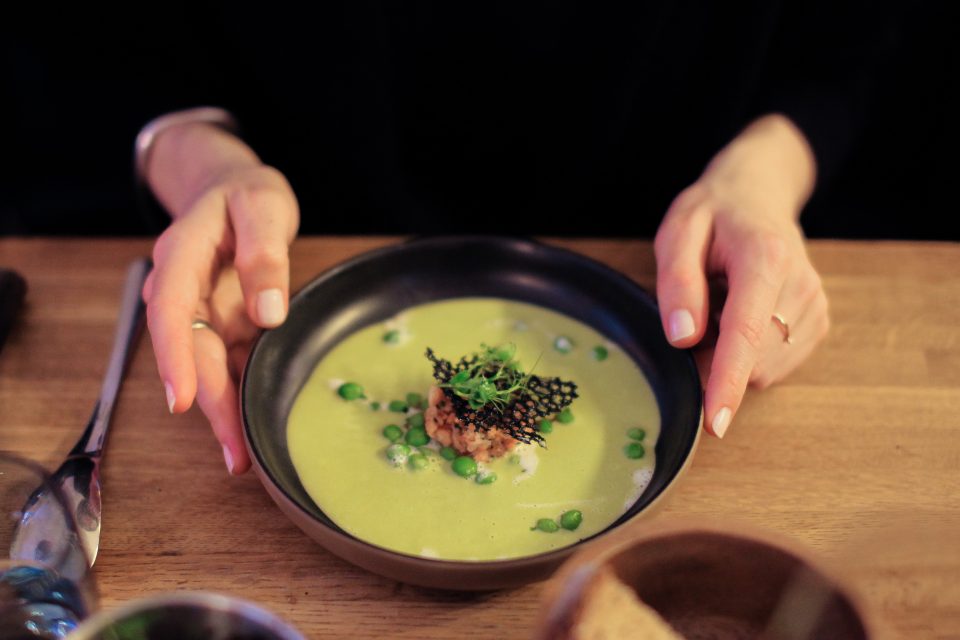 Our third course was "asperges vertes des Landes, béarnaise". A. Noste's head chef Julien Duboué comes from Landes so I assumed this is a home speciality. A "béarnais" is one who comes from the region of Béarn, and in the case of this course, a creamy sauce similar to a Hollandaise. Again the presentation of the dishes were spectacular, although this time the spectacle was heightened by these amazing ceramic plates.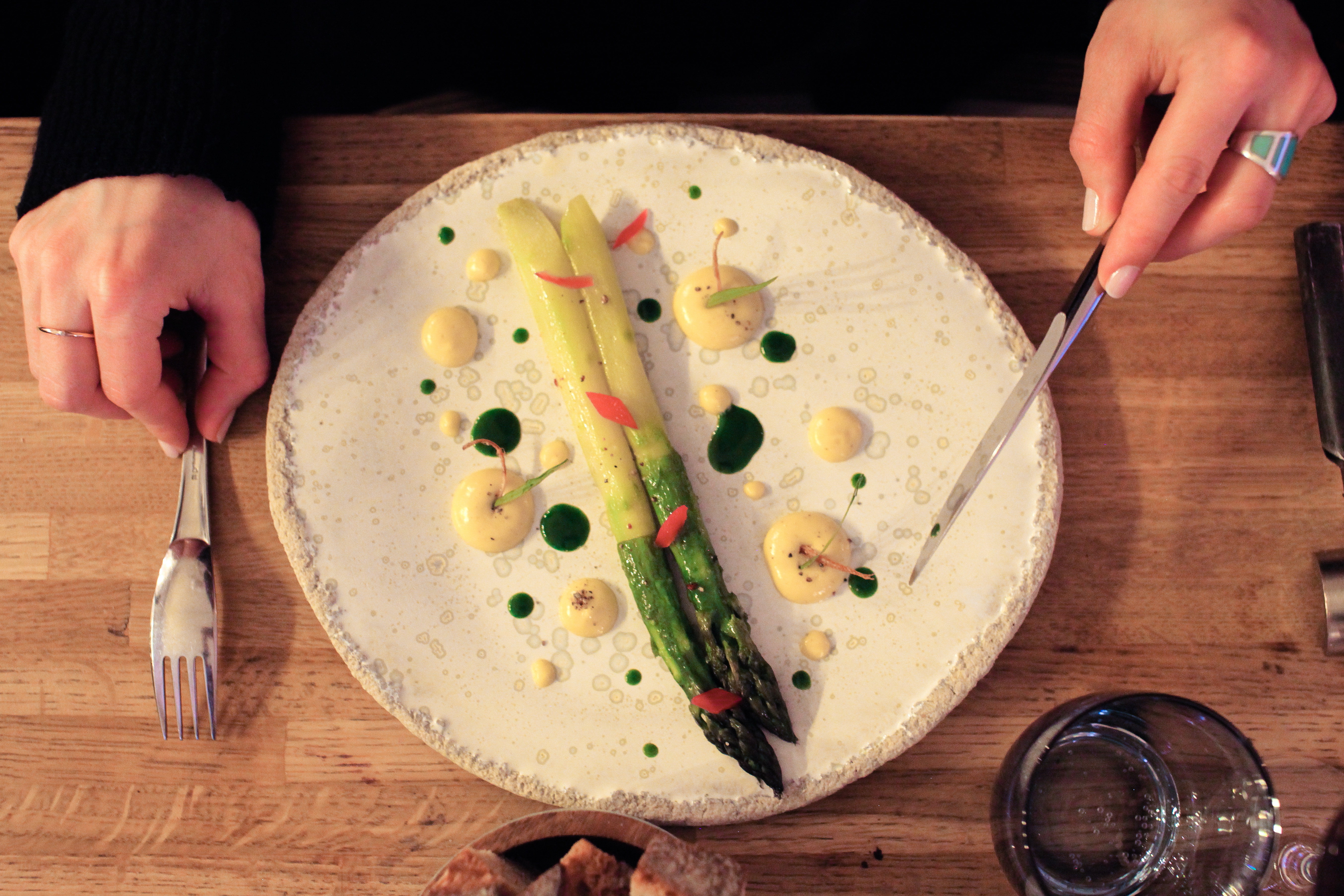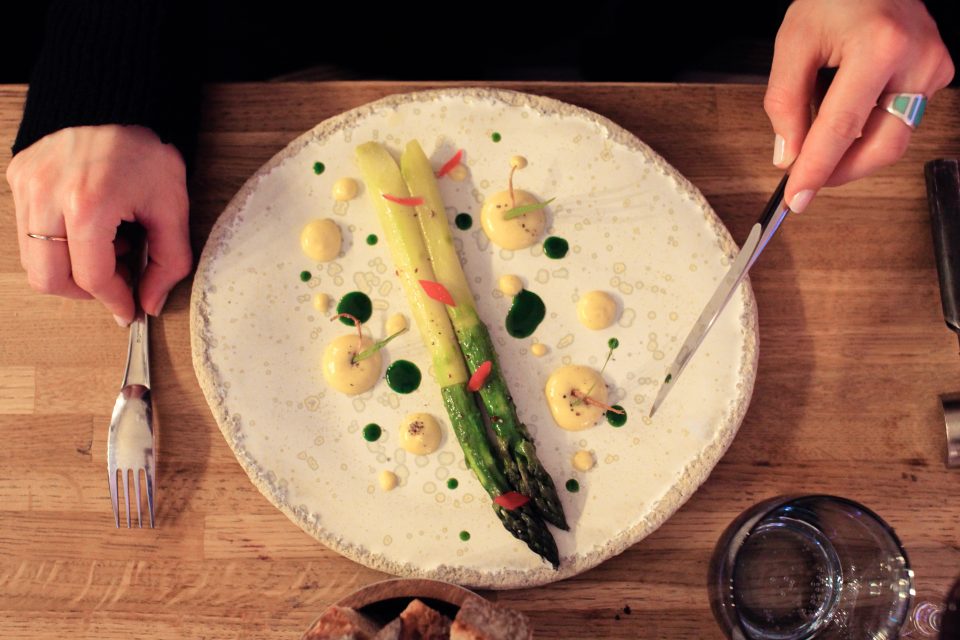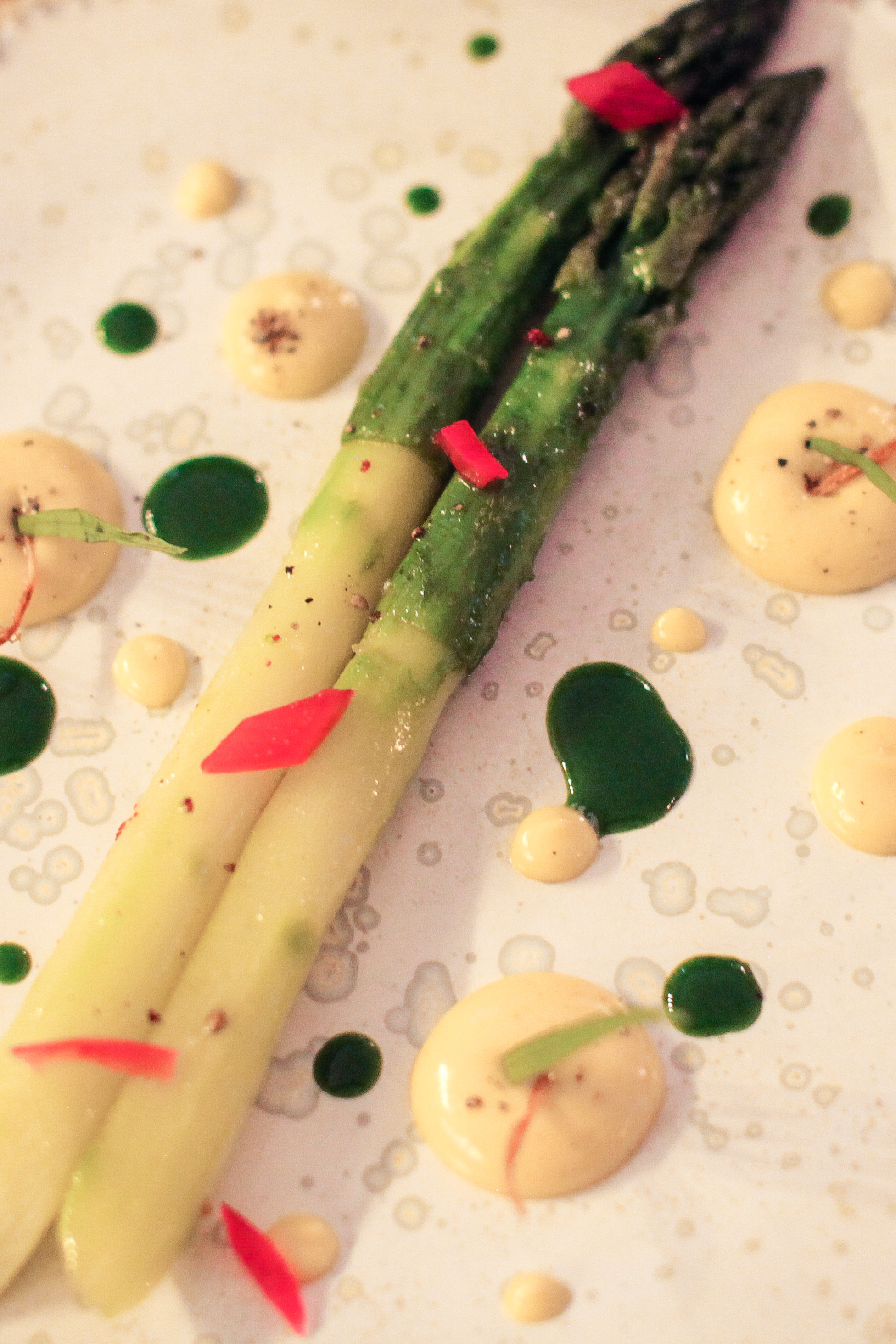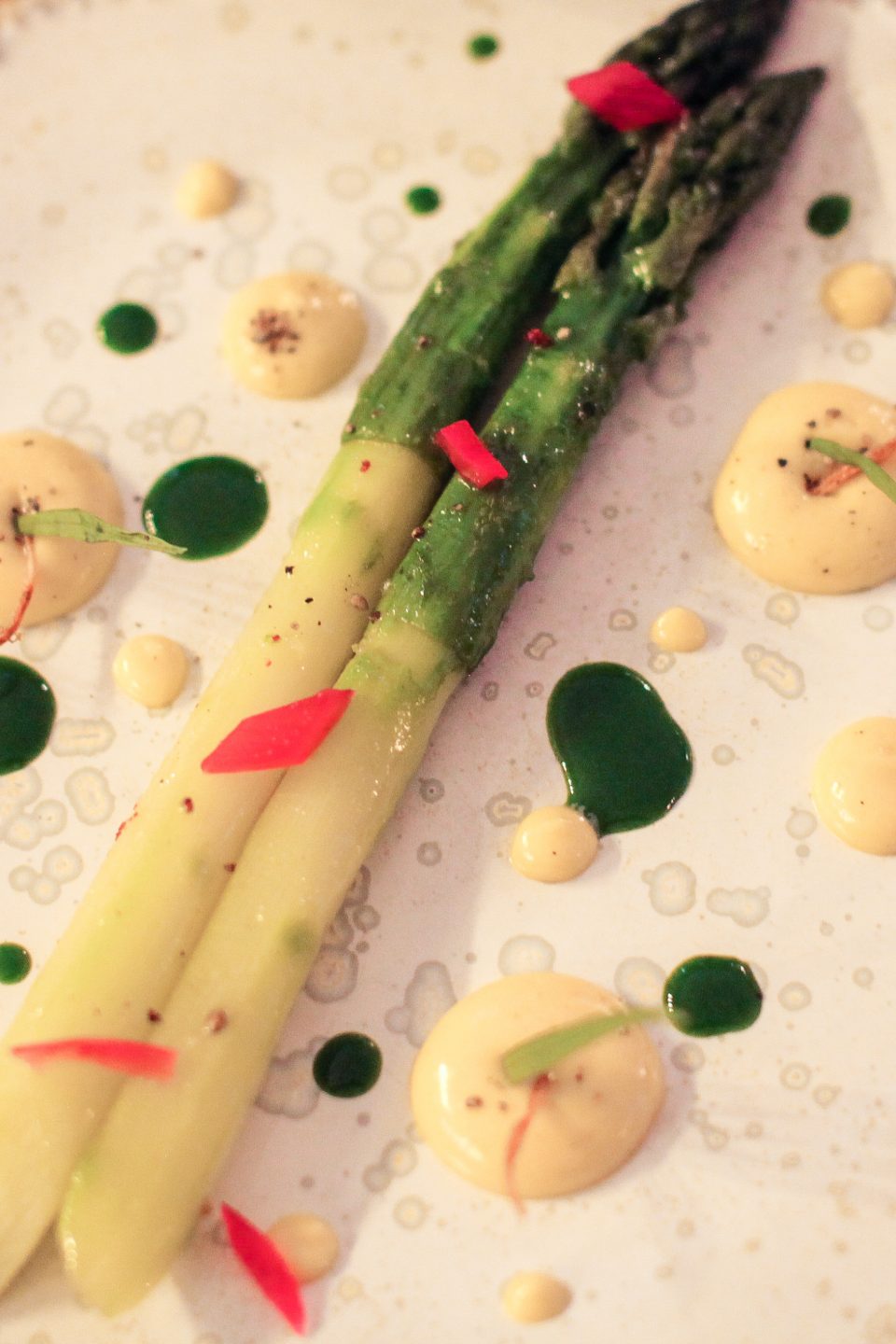 Coming in fourth was the "Filet de Saint-Pierre, rhubarbe et lait d'amandes". Sorry guys, but someone had to eat it, and we did it with great pleasure. The finely chopped cubes were balanced so delicately atop the filets, with a green dust laced on the black ceramic plate. Probably dehydrated absinthe. You never know with these crazy French chefs.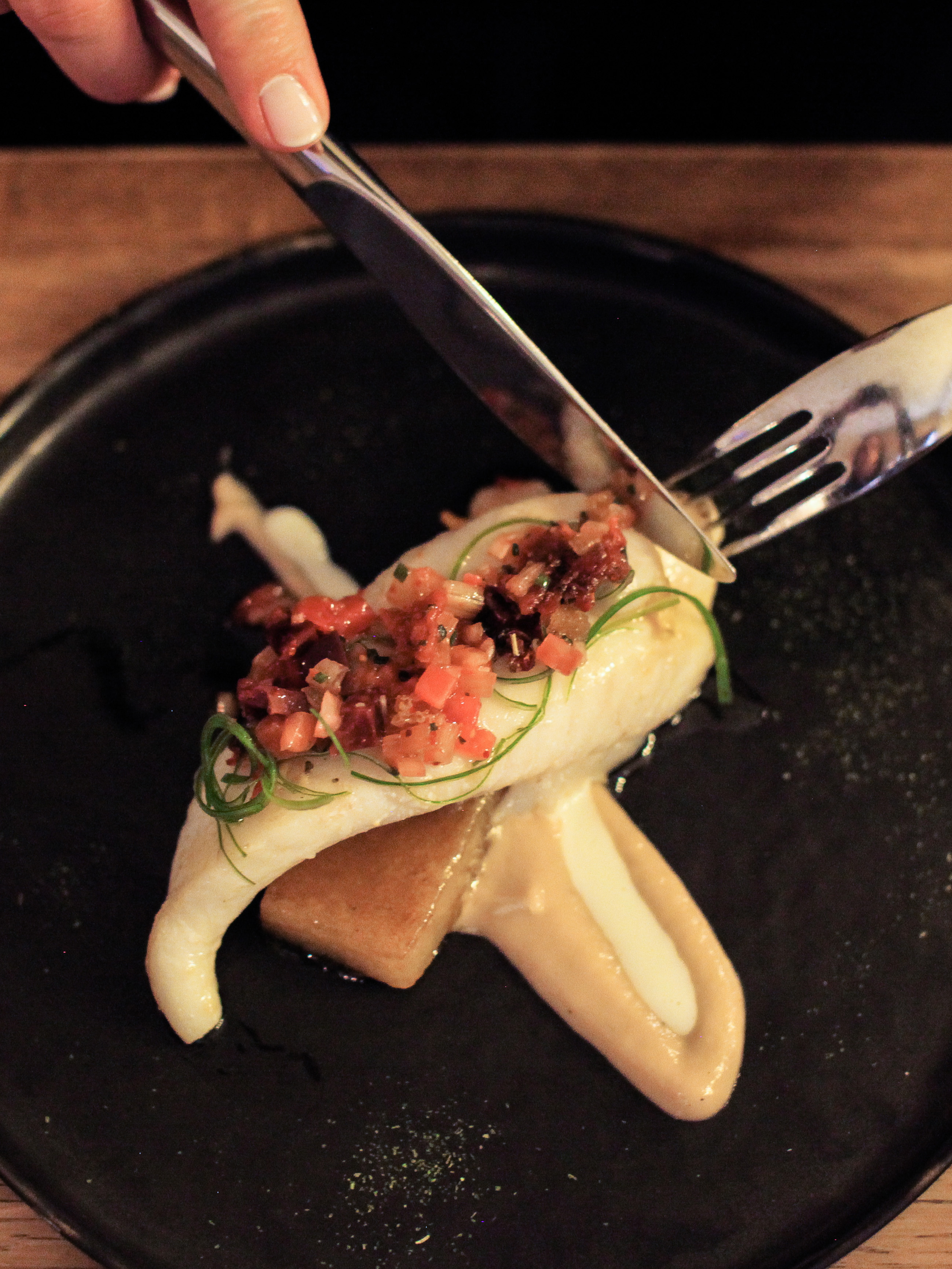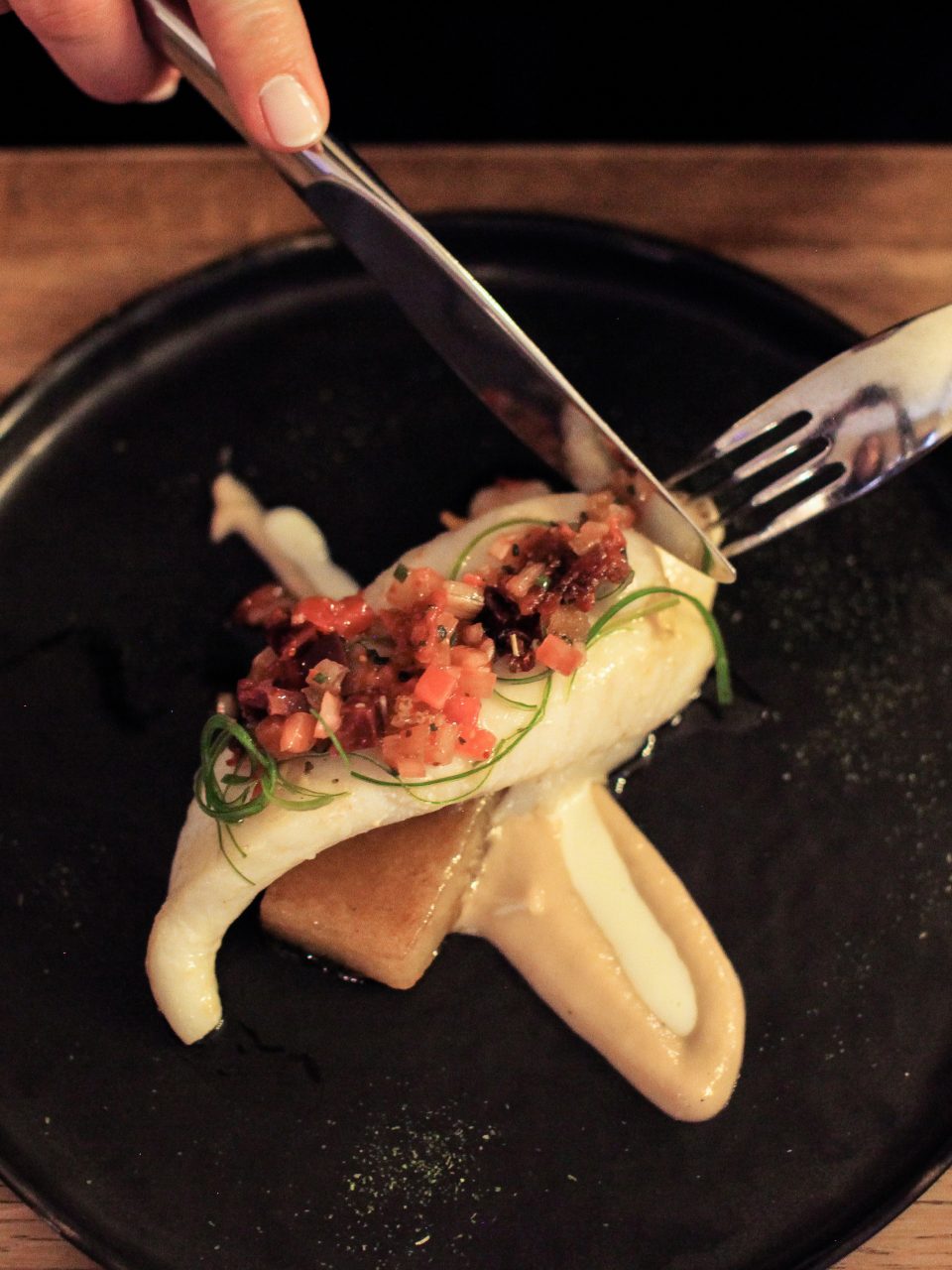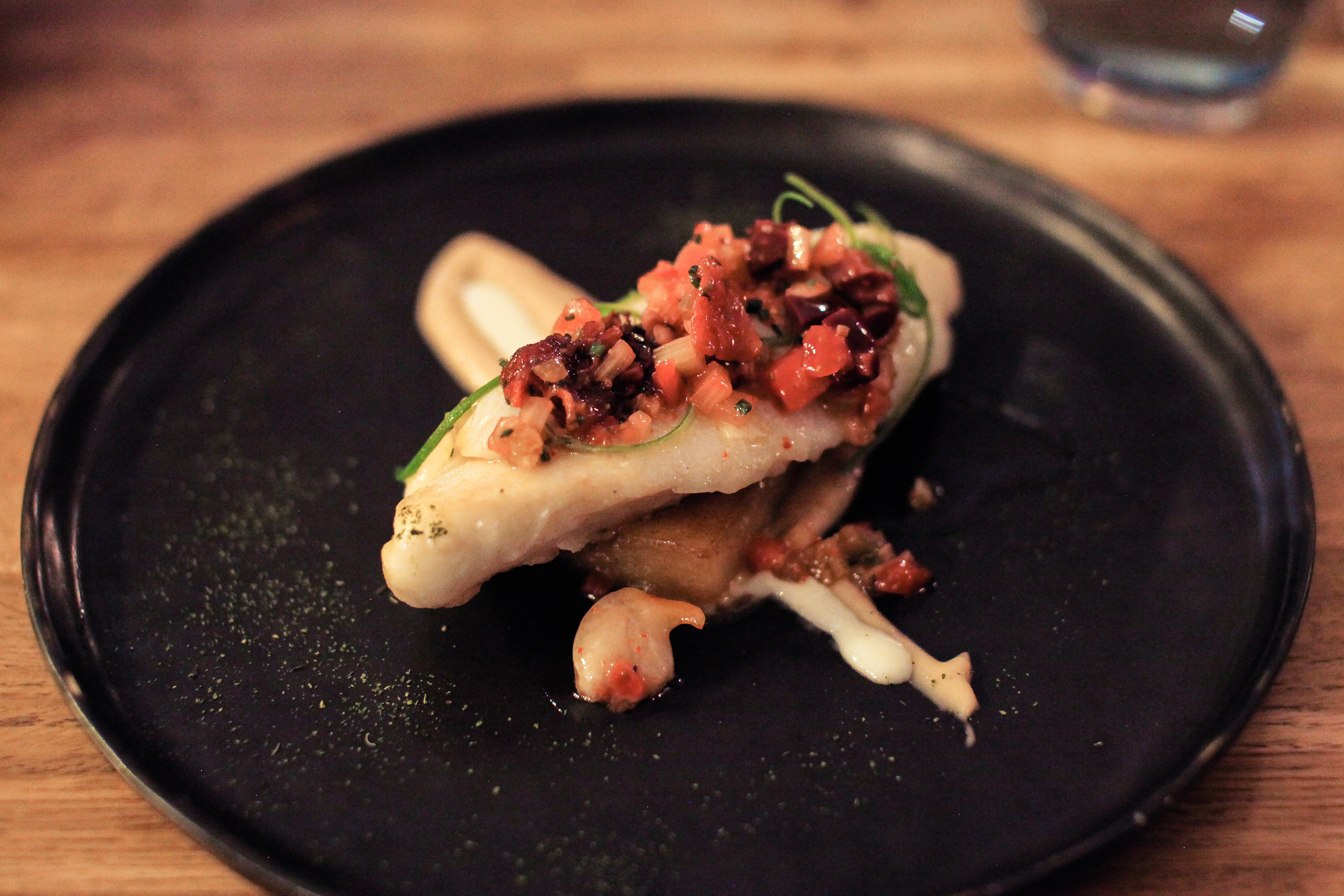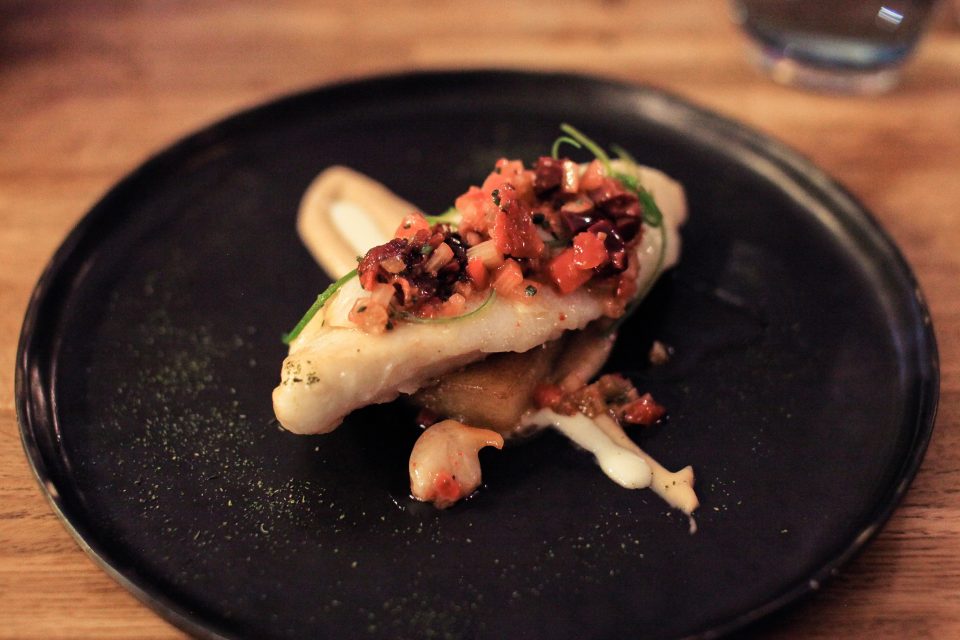 The fifth course was when the crockery jumped the shark. The "Veau Orloff" came in what I can only describe as being a giant hot granite boat. The veal was tender and very saucy and foamy. We've been to another restaurant which had a penchant for foamy dishes, so it was interesting to see another take along similar lines.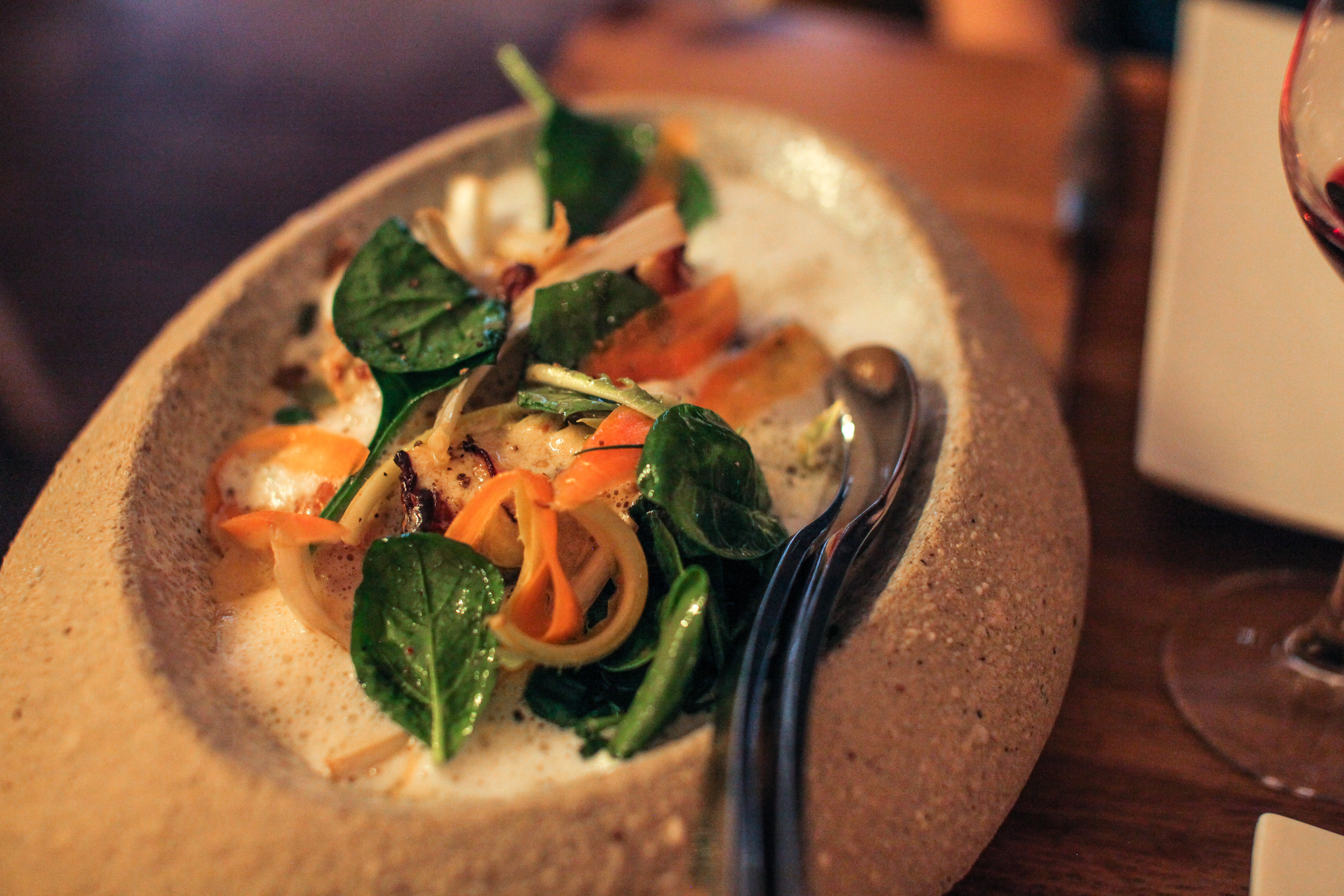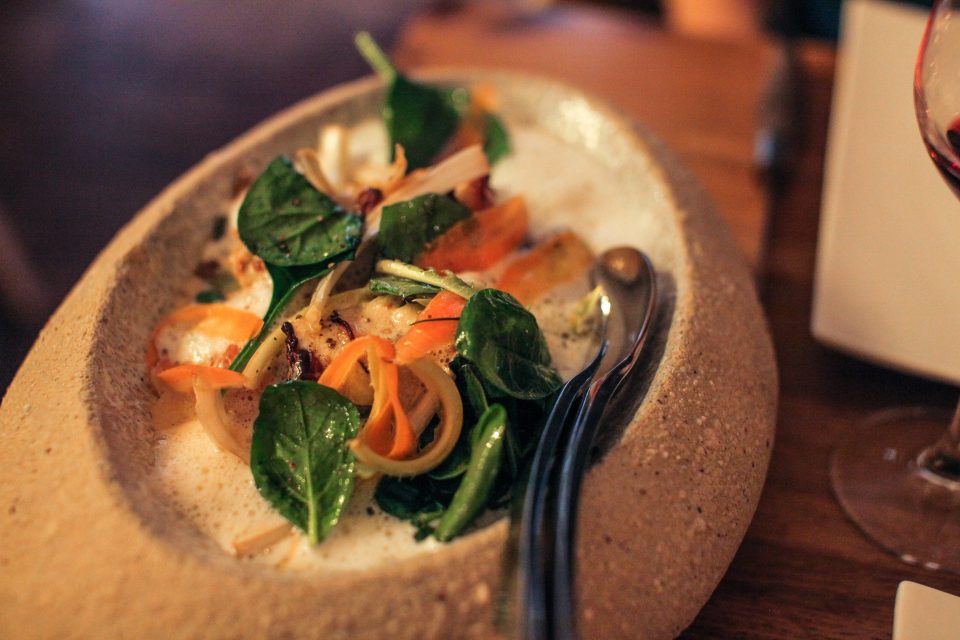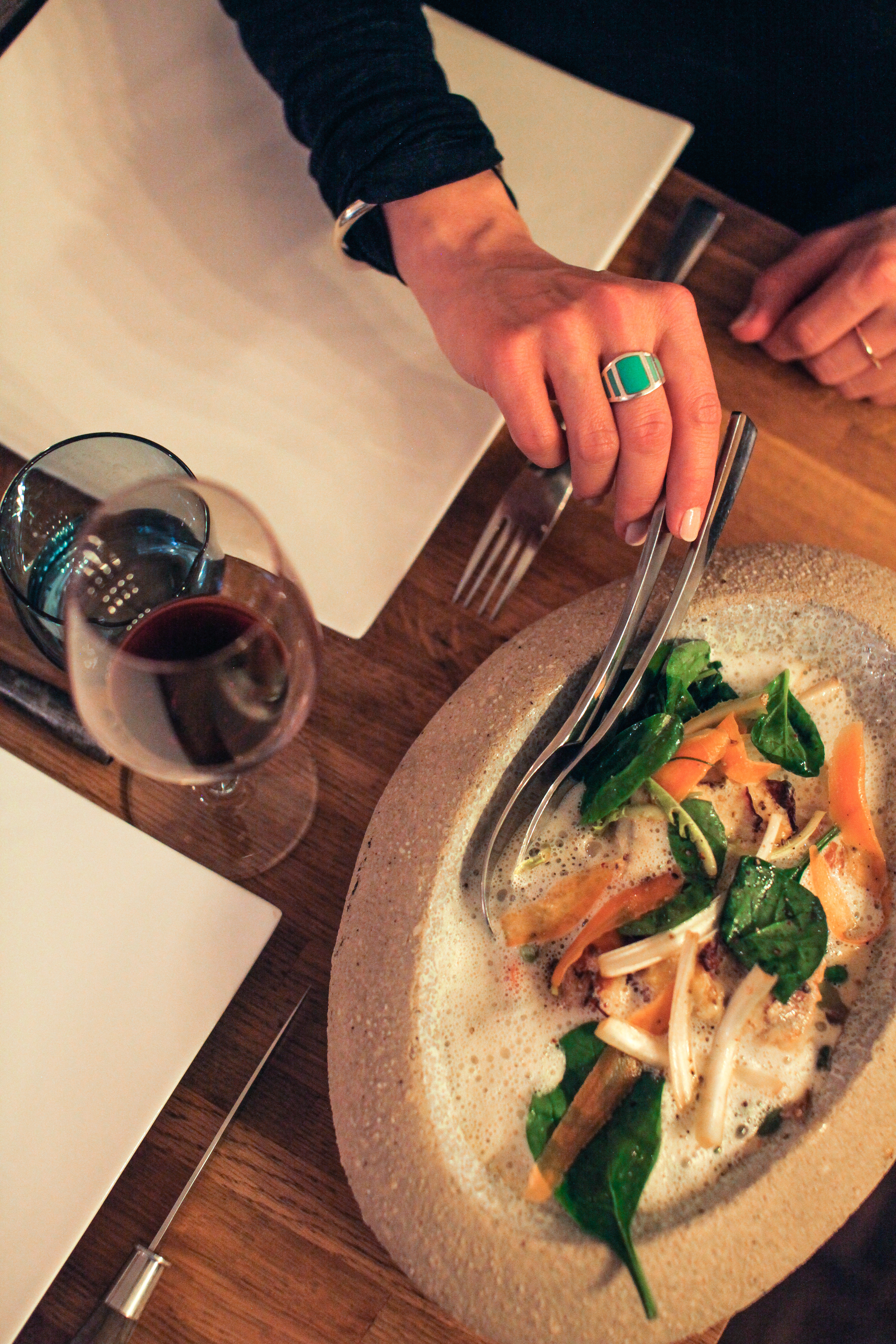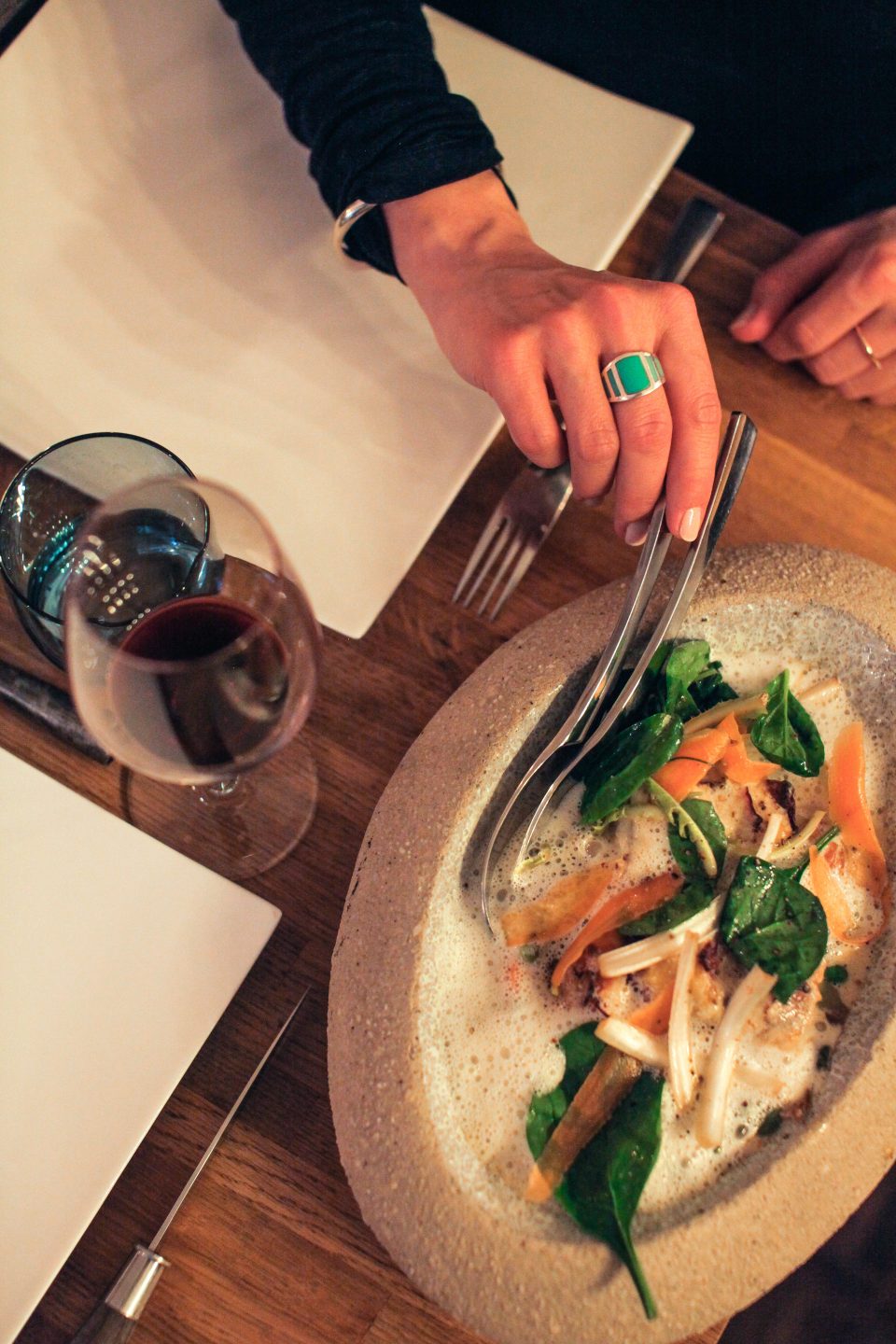 When one signs up for a 7-course meal, you never quite know how to prepare; tied up between not eating lunch, or eating a double lunch just in case it is postage stamp sized portions. Suffice to say, I was loaded by the 5th course, writhing in my seat, questioning why on earth the French couple next to us polished each course like it was nothing while my stomach was now full from the veloutés, asperges vertes and Saint-Pierres past.
Suffice to say, I soldiered on while Natalie made sure to give me stick about the complaining and squirming I made! On with it, then.
The sixth course was the "Saladine de Saint-Nectaire", a light respite from the heavy veal dish before. Again, while all courses were small portions, altogether they laden the belly with considerable physical mass that the dried mulberry on the side was almost equivalent to a "wafer-thin mint" in a Monty Python sketch. Thankfully, I didn't explode, but the belt was loosened a few notches.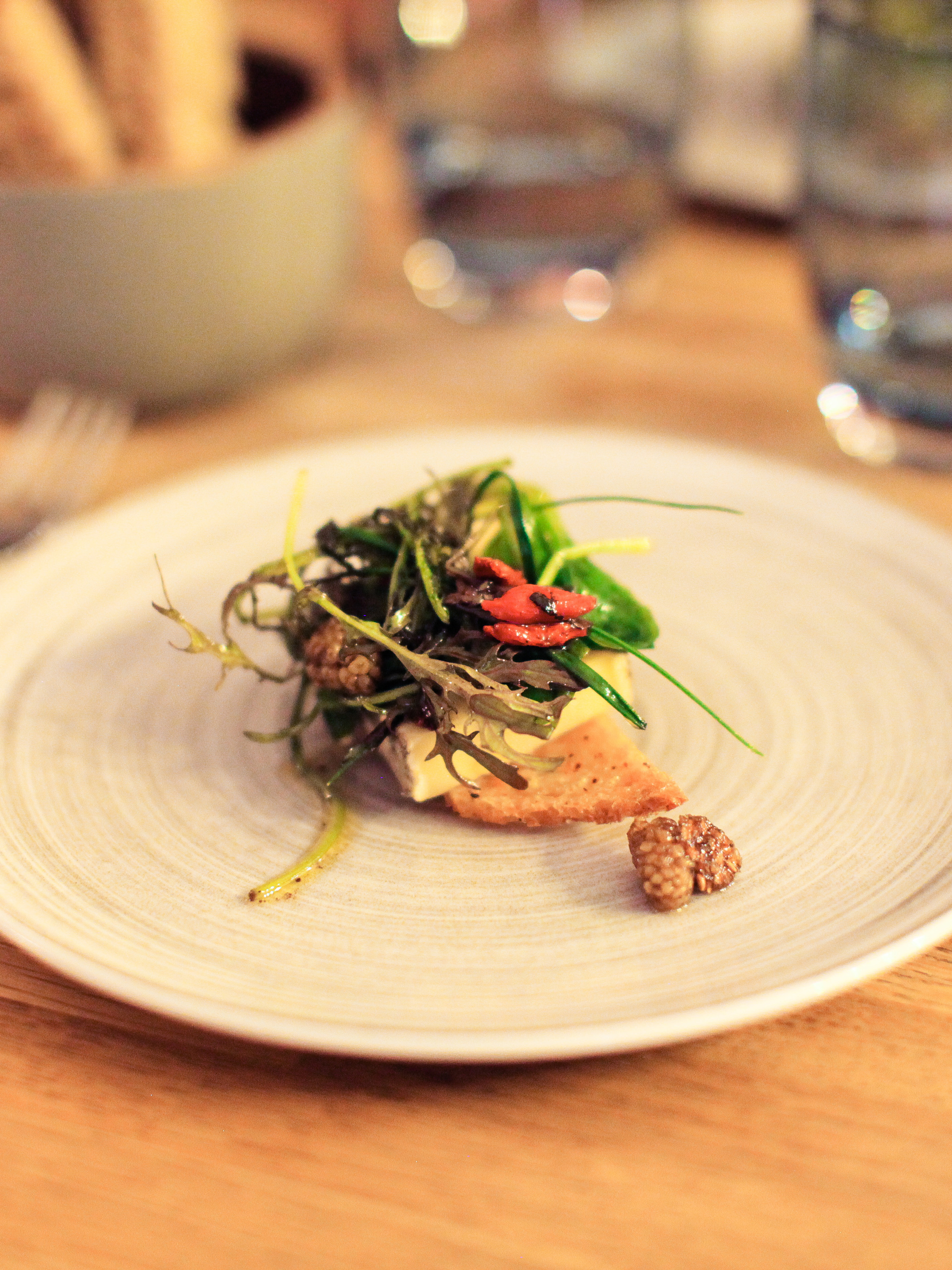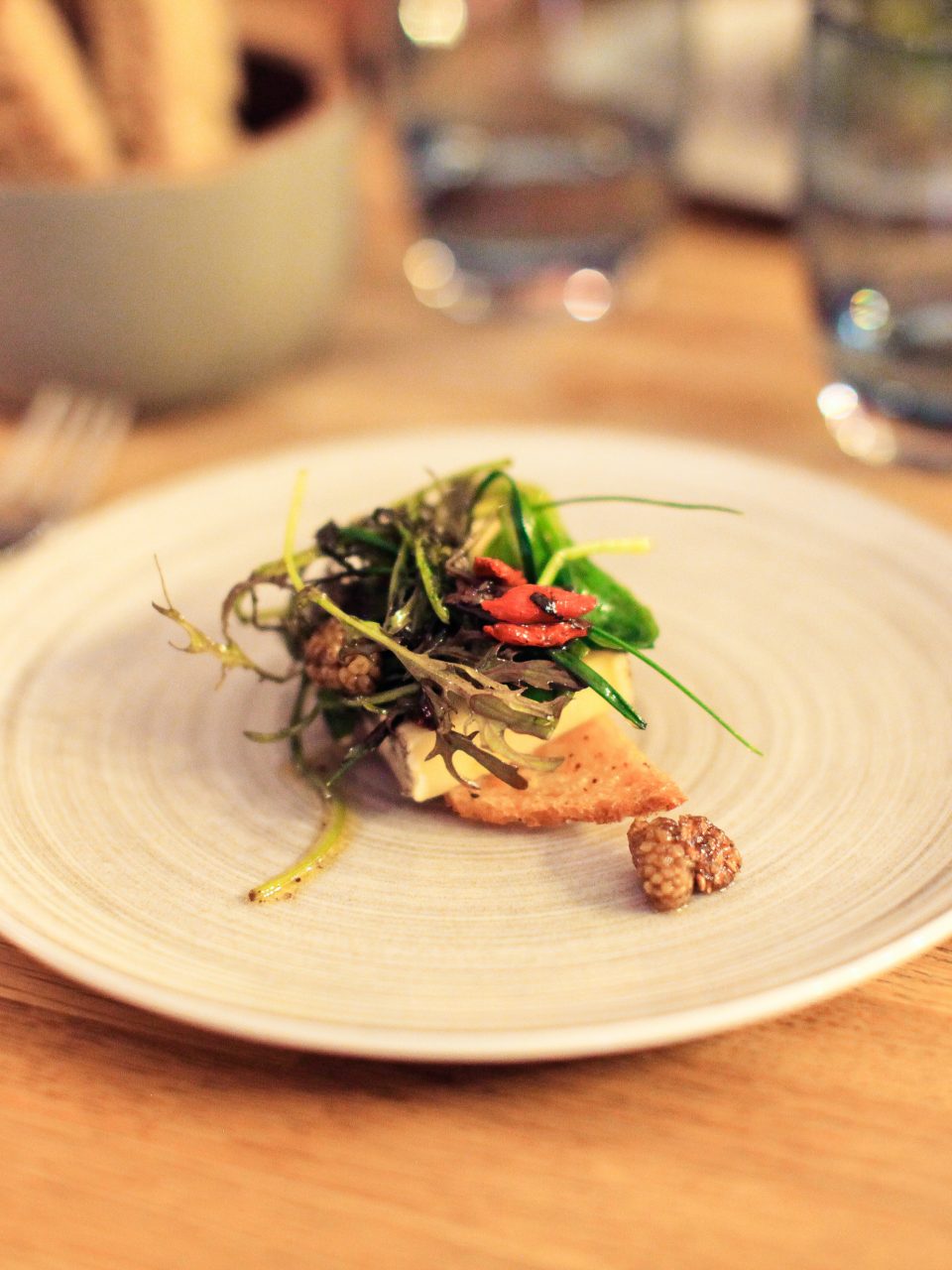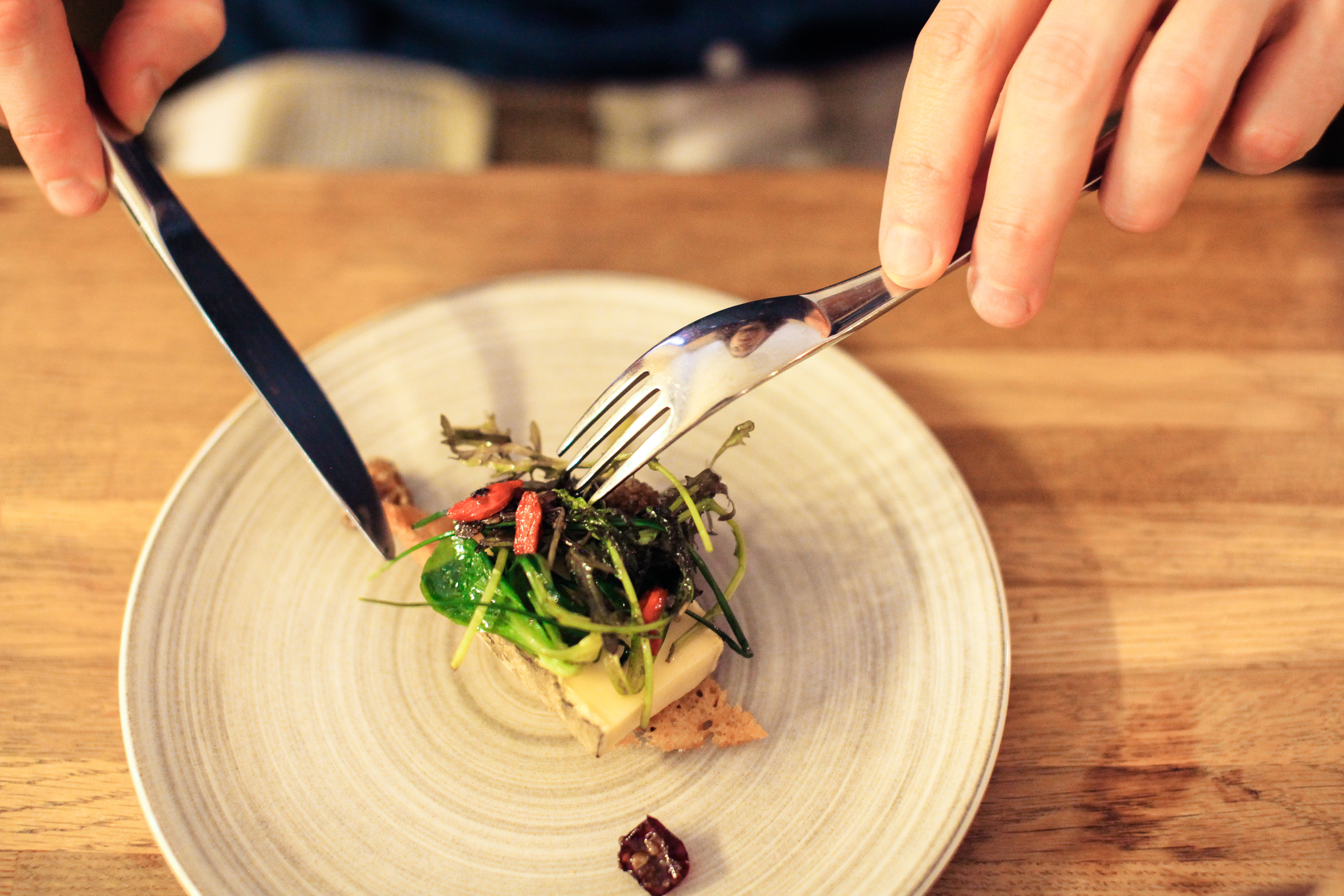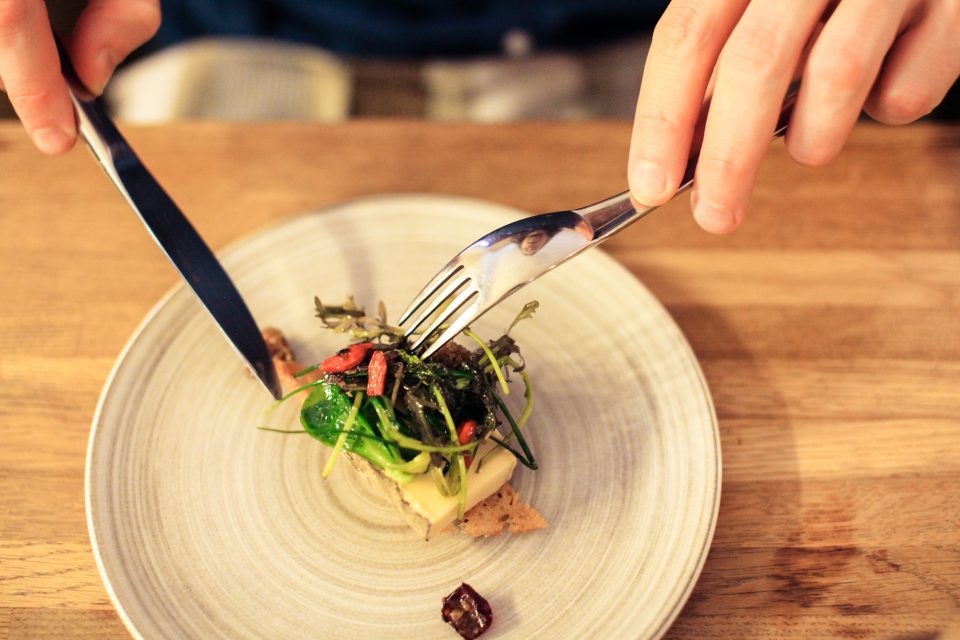 Lucky number seven course was a "tatin de Chanteclerc" and a sour Granny Smith apple sorbet. The tatin was surrounded by ice cream and had apple slices arranged like edible scaffolding adorned with gold flakes. The ice cream and sorbet was well suited to melt and fill up whatever gaps may have remained in our bellies.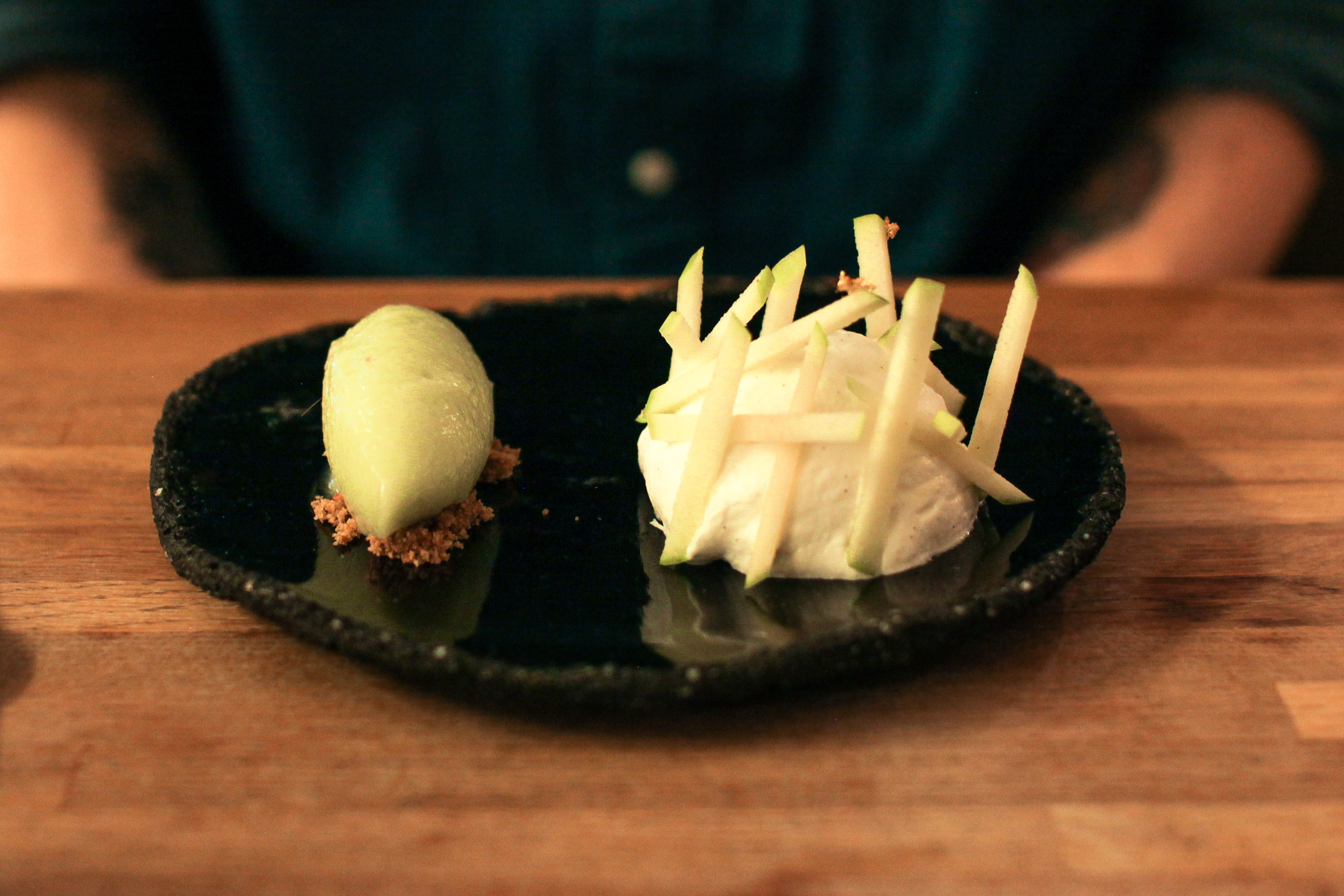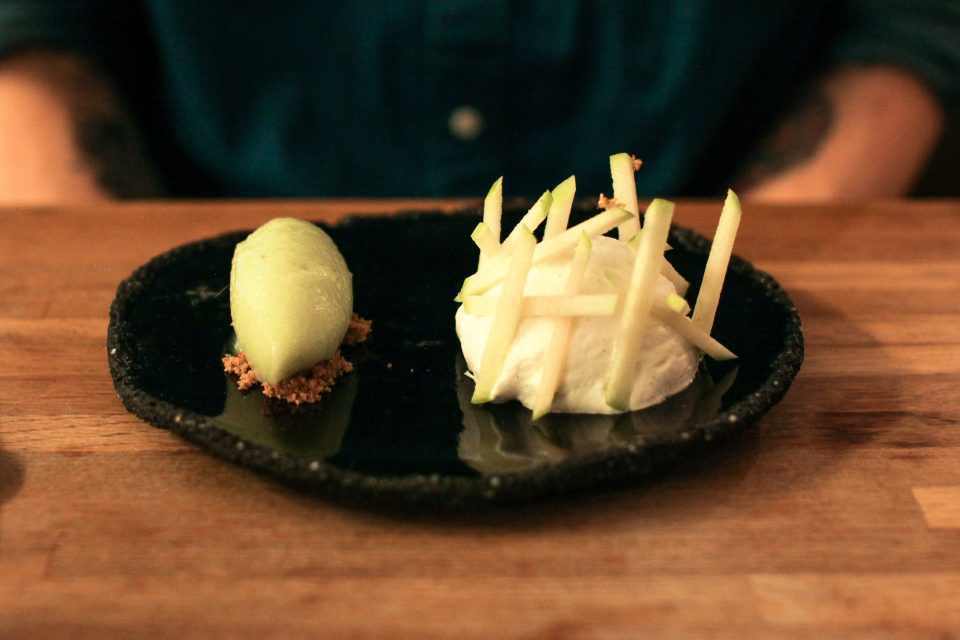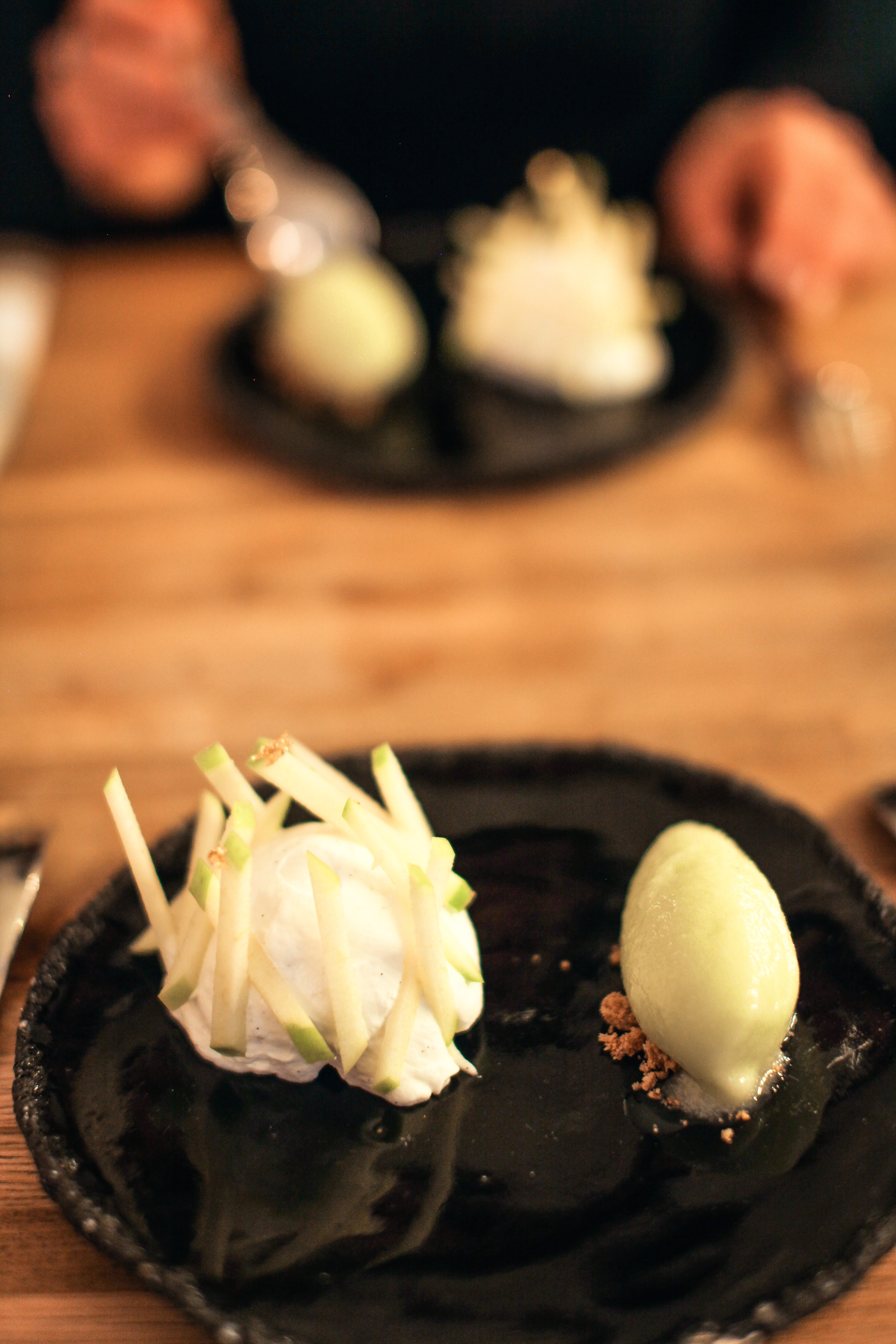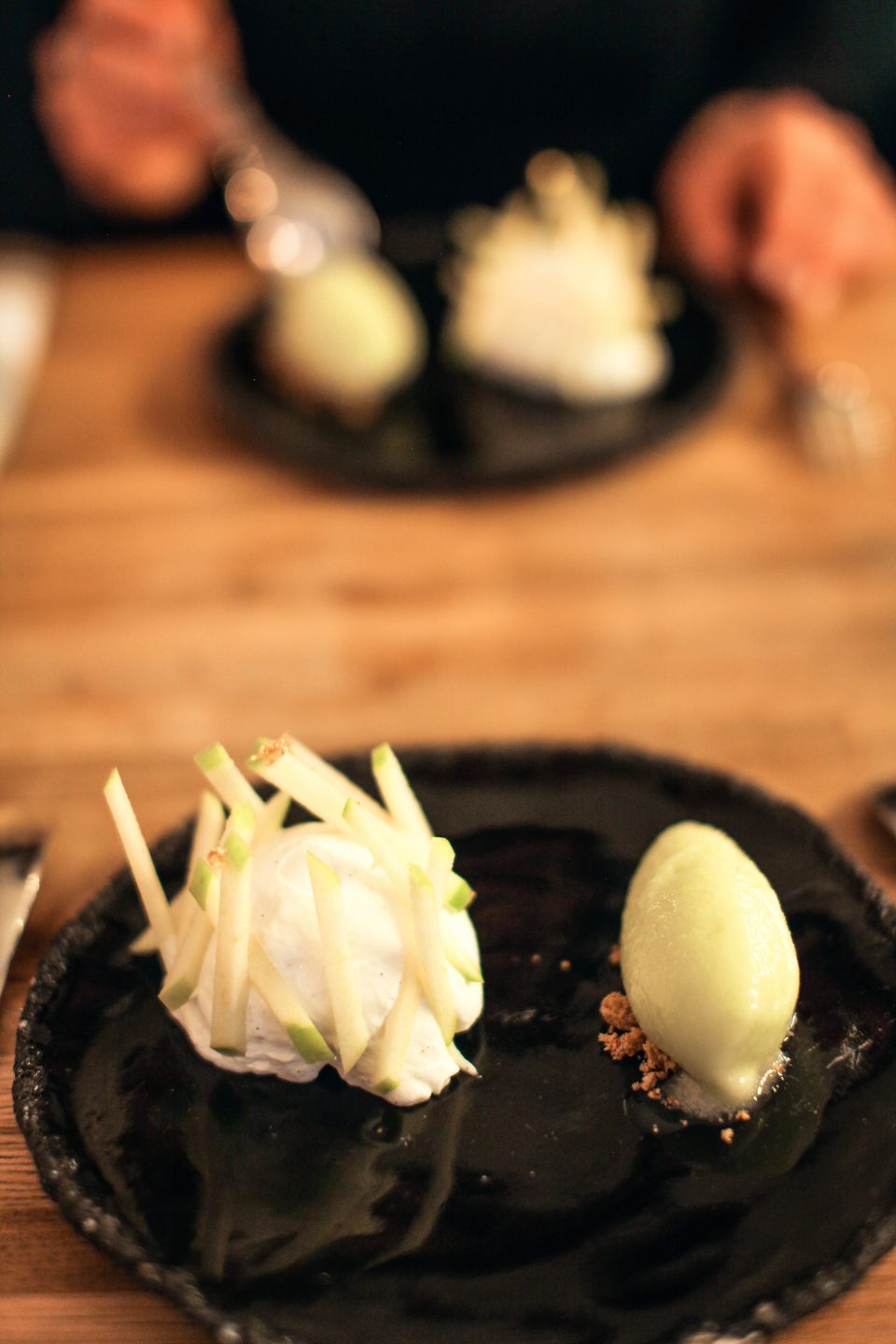 All's well that end's well; we thoroughly enjoyed the ambience, cuisine, and service of the evening and safely rolled home. It was a real treat to sample the experience and have some South Western France inspired dishes, and one in which you can most certainly avoid eating a big lunch (or even any lunch) before getting the 7 course degustation menu.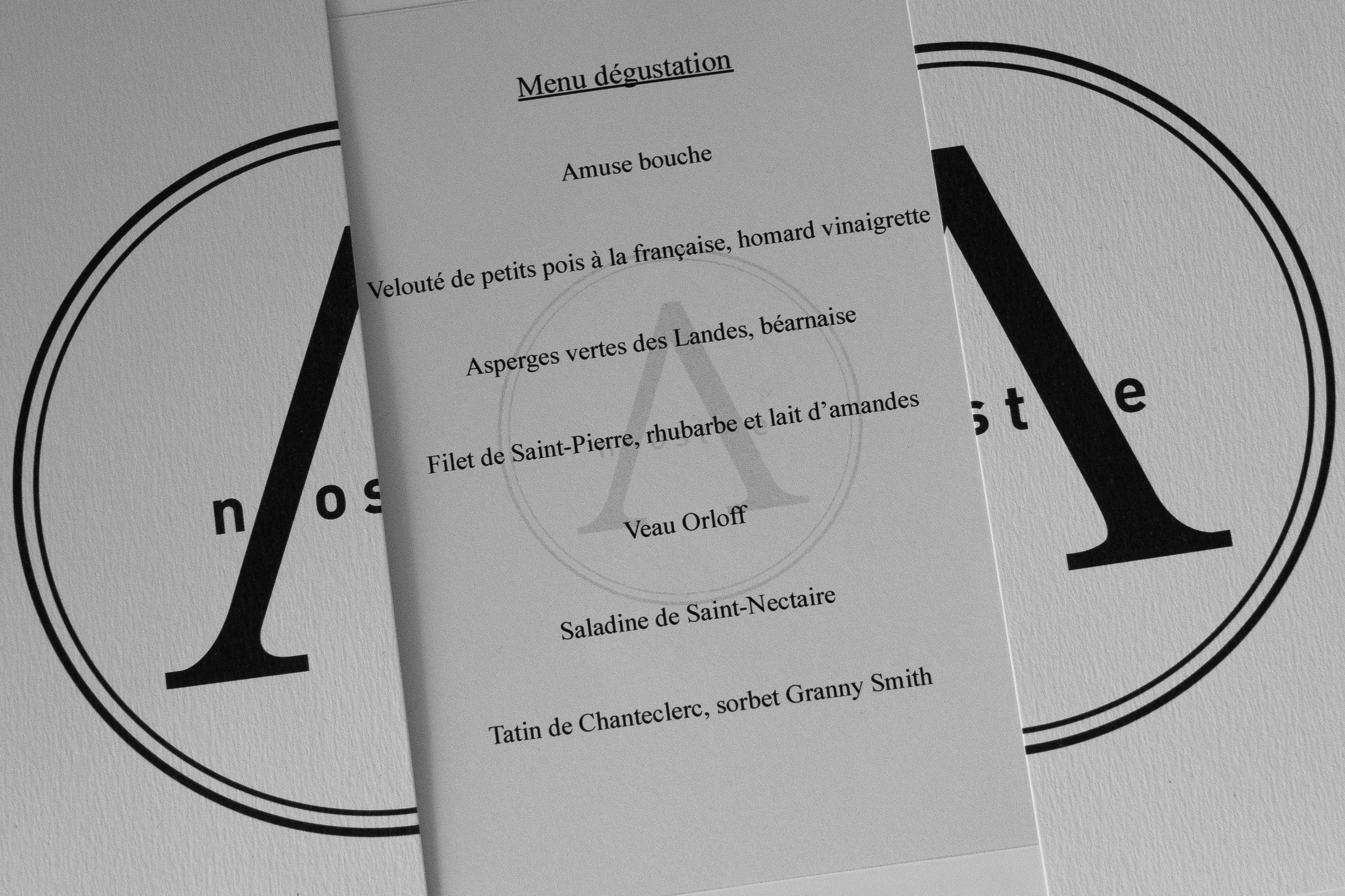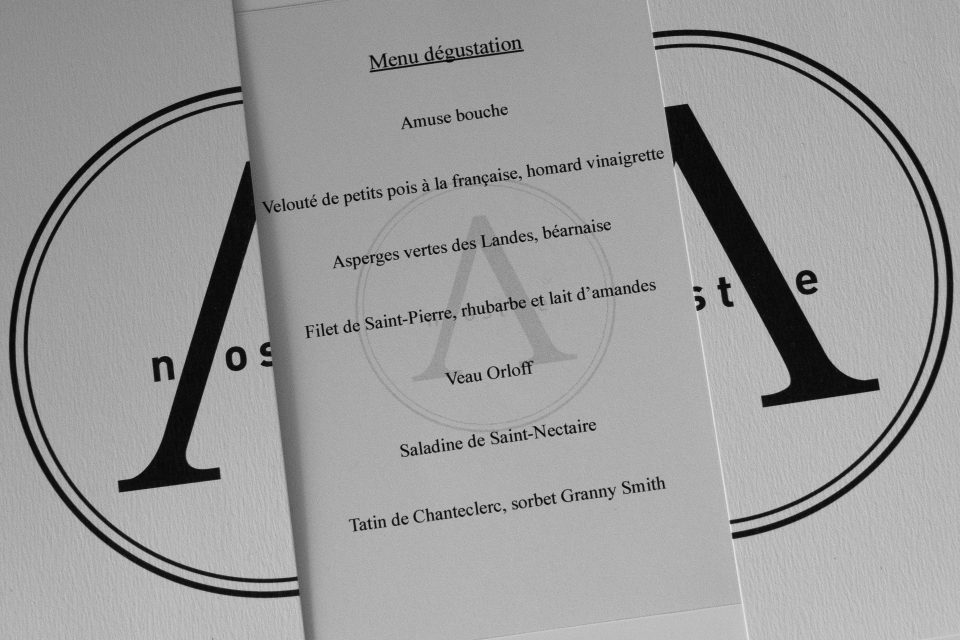 Post Details
A. Noste
6bis rue du Quatre-Septembre
Paris 75002 France
This post is in collaboration with citizenM
Read their review of A. Noste